Gigantic cake sculpture of Italy breaks the world record
Posted on 5 October 2015 in Italy
Following their successful attempts at creating the world's largest pizza and tiramisu, Italy has broken another world record, this time having baked the world's largest cake sculpture.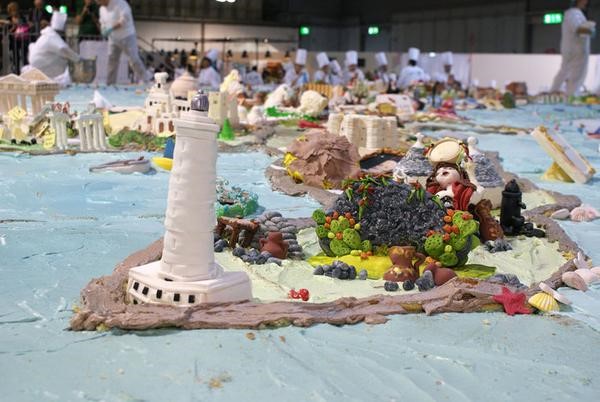 Measuring 16.46 metres by 13.94 metres, the gigantic cake depicts Italy and is decorated with icing models of many of Italy's great landmarks, from the Alps to the Leaning Tower of Pisa. Over 300 bakers and designers from the National Association of Cake Designers teamed up to help create the sponge cake, which is said to have had a total surface area of 244 square metres and weighed more than a tonne.
The team worked tirelessly on the cake for four days before it was unveiled at the Milan Trade Fair's Hobby Show. Once Guinness Judge Lorenzo Veltri officially confirmed it as the largest cake sculpture ever, the cake was cut into 12,000 individual portions before being handed out to visitors at the Fair. It beat the previous world record set in London by Fairy Liquid in November 2014.
The number of landmarks depicted on this edible map of Italy show that Italy has so much to offer to anyone who visits, from beautiful scenery to important cultural and historical buildings. Book your Tuscany holidays with us today to enjoy your very own special slice of Italy!
Image: Agenzia ANSA