Restoration continues on Florence's historic Piazza Santa Maria Novella
Posted on 30 August 2016 in Italy, Tuscany
Home to the Church of Santa Maria Novella as well as the Novecento Museum, a contemporary art gallery which was once the medieval Loggio di San Paolo hospital, the Piazza Santa Maria Novella is one of the many beautiful squares visitors can find in Florence.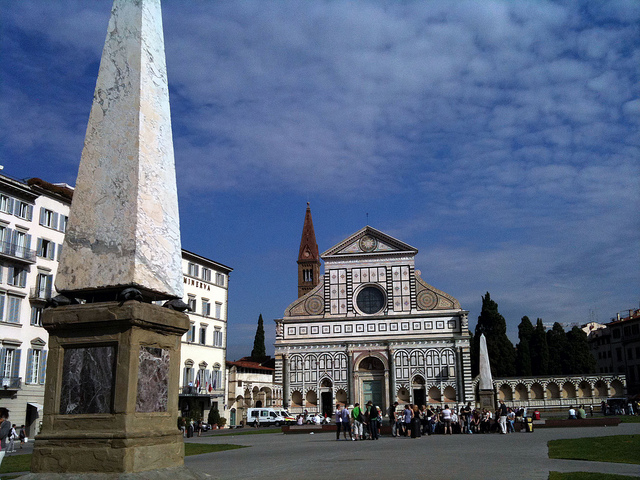 Currently, the Piazza is undergoing a huge amount of restoration work, which is said to have cost more than 16 million euros so far. Most recently, work has been carried out on the two striking marble obelisks that can be found in the square, which date back to the 16th century. Last restored nine years ago, they have since suffered from erosion, discolouration and cracking after continuously being exposed to the elements. Costing 95,000 euros, the recent restoration work on the obelisks involved cleaning, grouting work and installing a new anti-intrusion system.
Not only are these obelisks visually appealing but they also tell a story of the importance of the palio in Florence. Introduced by Cosimo de'Medici in 1563, the Palio dei Cocchi was a popular carriage race that took place annually in the square, and wooden pyramids were originally used to mark the boundaries of the race course. In 1570, however, Bartolomeo Ammannati began work on constructing the obelisks, which acted as a more permanent marker, and have remained in the square to this day.
Work began on the obelisks back in December, funded by the Florence I Care (FLIC) Project, which helps to preserve works of social, artistic or scholarly significance. Among the other work in the Piazza which has been recently completed includes building new barriers around the flower beds, as well as pedestrianisation of the square and revitalising the Novecento Museum.
Both the Piazza Santa Maria Novella and the city of Florence are just a short distance from many of our luxury villas in Tuscany, which make for the perfect spots to begin and end your days exploring this wonderful region.
Image: Rodrigo Soldon, available under Creative Commons