Flamingos hatch in Sicily for the first time ever
Posted on 6 July 2015 in Italy, Sicily
36 newborn chicks have just hatched in a nature reserve in Sicily, marking the first time ever that the majestic birds have bred on the island.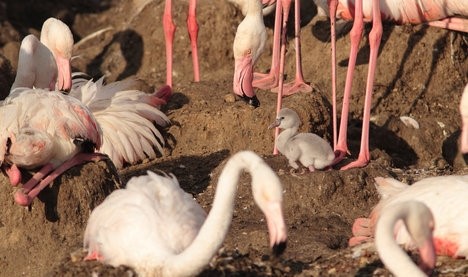 Widespread across Africa, South Asia and Southern Europe, all previous attempts to create nesting sites for the birds have failed, making this a remarkable achievement.
The chicks were born at the Saline di Priolo reserve, where a flock of 220 flamingos were brought to over a year ago, with some of these flamingos becoming parents at the reserve. Organised by the Italian ornithological association Lipu, the nesting is said to be "an important recognition of the work Lipu and many volunteers have carried out to give new life to this area".
Once home to coastal dunes, the area around the reserve was then brought into turmoil by the building of an industrial complex, with the remaining 40 hectare strip being transformed into the breeding ground – one of the few sites in Italy suitable for the pink flamingo to breed at.
As well as the flamingos, the reserve is home to a further 215 species of birds – over 40% of the observable species found in Italy. Members of the public are allowed to access the reserve, observing the birds from a safe distance, and will be able to watch the chicks grow over the summer, learning how to fend for themselves. At the end of the summer, the fully-grown birds will spread their wings and move on to pastures new.
If you'd like to learn more about Italy's incredible biodiversity, visit our website for the best hotels in Italy, covering not only Sicily but also Sardinia, Tuscany, Abruzzo, Umbria and Puglia.
Image: Fabio Cilea/Lipu