Five great ways to spend March in Italy
Posted on 4 March 2016 in Italy, Le Marche, Tuscany
With spring now on its way, the villages, towns and cities come to life with all kinds of events, celebrating everything from religious figures to centuries-old traditions and local produce during March. Below are just a few of the things going on if you're staying at our Italian villas throughout March.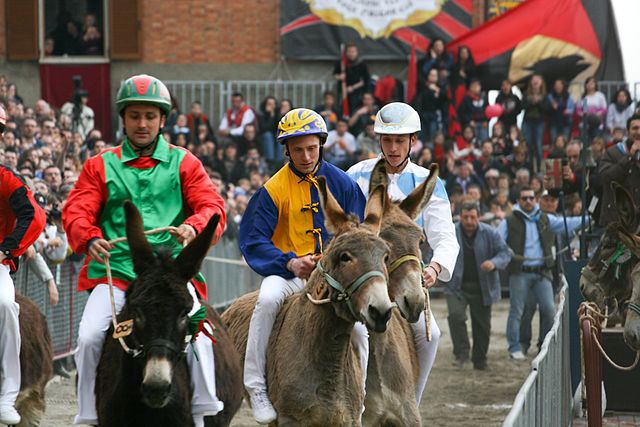 Tipicita – Fermo, Le Marche, March 5th-7th
For the 24th year running, the small town of Fermo in the Le Marche region has hosted Tipicita, a showcase of the region's finest food and drink. Several miss out on the delights of Le Marche by instead heading to Tuscany or Piedmont, but here you can try the best of regional cuisine all in one place. There's all kinds of foods to set any mouth watering, from fresh seafood to olives stuffed with meat and cheese and a special variation of lasagne, made with veal ragu. Wash it all down with some of the region's finest wines or sample some of the many beers on offer, new for Tipicita 2016.
St Joseph's Day – all of Italy, March 19th
Named in honour of Joseph, who raised Jesus, St Joseph's Day, or Saint Giuseppe's Day, is when fathers all over Italy are shown appreciation by their sons or daughters. Gift-giving is the main tradition, as is eating zeppole, delicious fried balls of sweetened dough coated in sugar. You'll find these sweet treats in street carts all over Italy on St Joseph's Day.
Palio dei Somari di Torrita di Siena, Tuscany, March 20th
Though the Tuscan city of Siena is more famous for the two Palio events which take place in July and August, this 'warm-up' Palio in nearby Torrita di Siena is equally as exciting, but draws fewer crowds. Palios are normally associated with racing on horseback, however, the Palio dei Somari is different in that the riders battle it out on the backs of donkeys instead! Donning traditional medieval costumes, the Palio dei Somari is sure to provide some memorable entertainment.
Easter Sunday – all of Italy, March 27th
One of the most important Catholic holidays of the year is Easter, and whether they celebrate it for religious reasons, to commemorate the coming of spring or simply to spend time with family, the people of Italy will be devoting the day to the occasion. A host of events take place all over the country, including the Explosion of the Cart, which takes place in Florence. This event derives from an old tradition, where a cart filled with fireworks is wheeled around the city until it reaches the Duomo, as well as a torch lit with ancient flint. The Cardinal of Florence then puts the two together after the Easter mass, setting of the fireworks and sending the whole city into celebration.
La Pasquetta – all of Italy, March 28th
The day after Easter, Easter Monday, or La Pasquetta in Italian, is, depending on where you are in Italy, either a day of rest or a day for more exciting events. While some relax with a picnic, the Umbrian village of Panicale takes it one step further by holding a competition to see who can roll a wheel of cheese the furthest.
Image: Edisonblus, available under Creative Commons