Five great places to eat in Florence
Posted on 24 February 2010 in Tuscany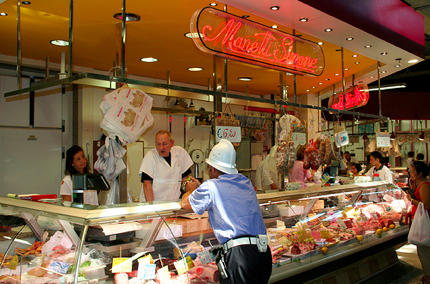 San Lorenzo market courtesy of David Vogel.
Ian writes: having lived in the very centre of Florence for over four years, I ate out at plenty of great places. These are the spots I kept returning to – and still do whenever I'm in the neighbourhood…
Trattoria Anita's | Via del Parlascio
Situated just behind the Palazzo Vecchio. A real local trattoria in the centre of Florence. At lunch time, the fixed menu is just the best way to experience the Italian lunch break.
Yellow Bar | Via del Proconsolo
This great spot for pizza is between the Duomo and Palazzo Vecchio; not the most imaginative name, but a great atmosphere nonetheless.
Trattoria Cibreo | Via Andrea del Verrocchio
Classic Tuscan fare with excellent service. Not the cheapest but worth every Euro.
Osteria Caffe Italiano | Via dell'Isola delle Stinche
Stylish and charming osteria. Typical Tuscan dishes cooked and served well; you can't go wrong here.
San Lorenzo Market
Finally and possibly my favourite: breakfast at the market in San Lorenzo. In the early morning at the covered market, the locals are there picking out the freshest products; the banter between the stall holders and their clients is great. This is the ideal chance to pick up fruit and fresh bread and salami for a picnic in the Boboli Gardens later in the day, and escape the hawkers and hagglers and see the city from one of its best vantage points.
Let us know your favourites by posting them on the Essential Italy Facebook page.