Family holiday in Sicily
Posted on 10 September 2012 in Sicily
One of Essential Italy's clients – Anne-Marie Shepherd – has written up her holiday to Sicily:
Sicily, August 2012. One mother and four children Phoebe (15), Marlon (13), Stella and Henry (9).
Our home for the week was Borgo Petra, a beautiful renovated property in the heart of Mascalucia, a small town on the southern base of Mount Etna. Borgo Petra is a hidden gem. You enter the property through a huge gate and step into a beautiful characterful courtyard, full of flowers, old stone, a few tables with chairs scattered around them and immediately you relax! The smell of Jasmine is ever present and gorgeous. It was a perfect place to be. Henry said he didn't know that places like this existed. Not a hotel, not a villa, but like home for other people to stay in. He is right. It was just like that. Christina and Toto (the owners) and all their staff were delightful. Friendly, helpful, interesting and interested but not intrusive in any way. All the children were delighted to have Ferro the dog at hand for a hug now and then, and when Uma an 8 week old Retriever joined the family on the Sunday, well life just couldn't get any better! The breakfasts were supreme (fresh fruit, warm from the bakery bread, Christina's delicious home made cakes (semolina and lemon, fruit and nut), homemade jams, and the local almond treats, perfect for dipping in the fresh coffee. The feel of the place was of utter calm, especially considering we really were in the centre of town. The apartments were filled with beautiful pieces of furniture which matched the historic feel of the building.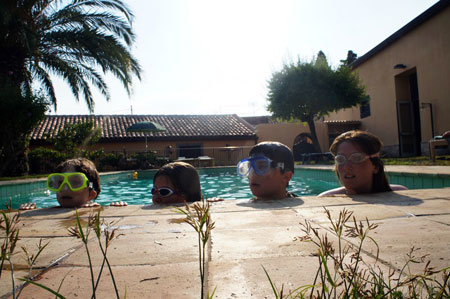 We had so much living space and had it all worked out how we could live here permanently with no problem at all! Across the quiet road from Borgo Petra courtyard is the pool, next to which, there is a fantastic large room which has gym equipment, an old iMac, books, games, table tennis and drinks. It was a great place for us all to hang out on our lazy holiday days. I was worried about bringing four pretty lively children here. I shouldn't have been. The pool, the space the accommodation offers, the brilliant play and gym room and just the location of Borgo Petra made it all easy and fun for all of us.
Mascalucia town offered quite a lot of cafes and shops, and some lovely restaurants. We loved the florist which doesn't actually seem to have any flowers in it – until you realise that because of the heat they are all kept in a huge 'fridge' at the back of the shop! There were a couple of excellent bakeries, fruit and veg shops and of course the obligatory carts selling fresh produce on the streets. The watermmelon we bought from one of these, the weight of Henry, was absolutely juicily delicious.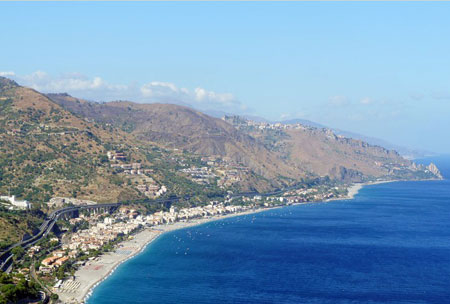 We enjoyed some great days out in our hire car. We headed north towards Taormina – the plan being a bit of beach followed by a bit of culture. We drove along the coastal road, past the beautiful but busy Isola Bella and parked up near a good looking beach just south of Letojanni. The beaches were not pristine white sandy affairs, but still just lovely, with small stones (actually preferable to the sand that does tend to get everywhere). It was hot, very hot, but the beach provided a cooling wind and exciting large waves. The girls lay on the beach and read, the boys were in the water, throwing themselves into those waves the entire time we were there. Henry especially simply could not drag himself out of the water. All round bliss. We drove the winding and at times precarious road up to ancient Taormina, a hotchpotch of architecture: ancient, magical buildings, car free cobbled streets with tiny alley ways leading off them, interspersed with more recent additions, somehow squeezed in into the rock faces. The views down onto the blue sea and along the coast were outstanding, as was the view across to the beautifully smoking Etna. We were all a bit in awe of her. The Greek theatre was very impressive, vast, and also afforded more incredible views all along the coast in both directions.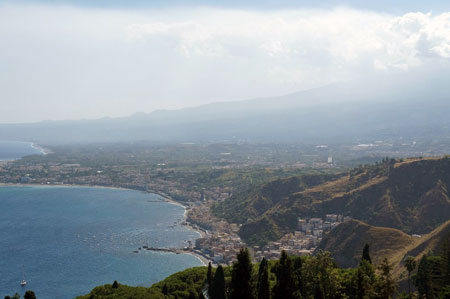 We headed South too. Started off in Noto a small old town full of incredible Baroque buildings and now a Unesco World Heritage Site. A really beautiful place to wander around and just admire the architecture. Next stop was Siracusa another ancient city. We headed for Ortigia, the oldest part. By the sea wall, there was a wooden platform where people were sunbathing and swimming by the rocks. A great idea for cooling off from the city heat. This city is steeped in history with amazing buildings, ancient architectural remains and the Neapolis Archaeological Park with its Greek theatre, where plays are still performed in the summer months.
To ofset all that culture we had a day of fun at Etnaland, the water park, just half an hour down the road from Borgo Petra. The park was like the Thorpe Park of water – full of amazing rides, pools, waterfalls etc. Our favourite ride was going in fours down a huge slide in a rubber dingy, although the wave pool came in a close second, with waves which were absolutely enormous throwing everyone around, whilst loud music blared, and everyone just sang and danced in the waves. It was like a water disco. Next to the waterpark they are currently building a theme park with huge roller coasters which will open next year.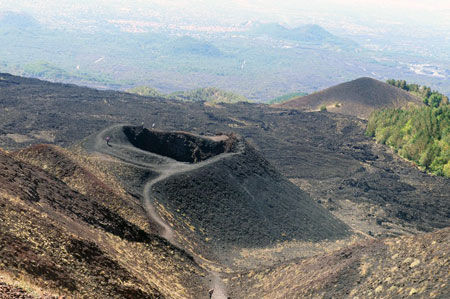 On our final day we decided to visit Etna, still beautifully smoking away. The locals say that as long as she smokes they feel safe. When she stops, they begin to worry! The trip was really worth it – beautiful, outer worldly and very high! Just the drive up to the main station is dramatic in itself. From there visitors can take a cable car even higher, and from the top of the cable car, bus trips take you even higher and as close to the smoking craters as the day allows. It is high and it does get cold. An extra layer of clothes and good shoes are recommended. It was wonderful to be able to walk around craters, see the history of eruptions, take in the incredible views and continue being in awe. Phoebe thought Etna is the epitome of girl power. There was quite a lot of respect going on there. We drove up Etna on the southern side, and drove back down on the east side which is much more fertile and green with lots of vegetation, vineyards and beautiful villages. A lovely day trip.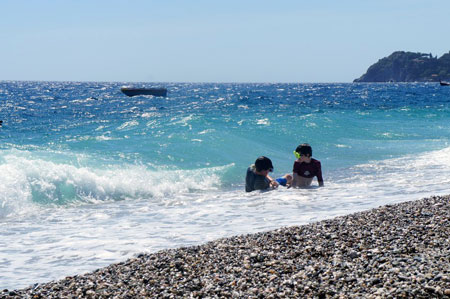 We were so sad to leave Sicily. It was raw, rugged, beautiful, interesting and provided an ideal mix of cultural trips, fun places to go and Borgo Petra was the ideal hideout for quiet days. The people were utterly charming. We couldn't communicate with the majority, but not once did we feel any kind of hostility. They were smiley, helpful and fun!