Everything You Need to Know About Drinking Wine in Tuscany
Posted on 26 September 2018 in Tuscany
When it comes to red wine, there's few that can compare to what's on offer in Tuscany. Wine-lovers from across the globe will head to this central region in Italy to check out some of the speciality wines available, visit vineyards and experience tastings. Grapes were first cultivated by the Etruscans nearly 3,000 years ago and were available in abundance. They were sold around the world and soon became the area's most successful crop, although wine production today is based around the Sangiovese grape. Quality is at an all-time high, so there's never been a better time to book a holiday in one of our villas in Tuscany. If you have a holiday booked or are thinking of doing so, check out our guide on everything you need to know about drinking wine in this beautiful part of the world.
Types of Wine
When most people hear of Tuscany, the first kind of wine they think of is Chianti, but there is so much more that the complex and dynamic wine landscape has to offer. Even within Tuscany, there are distinctive variations between the types of wines produced. For example, the central part of the region produces a tasty wine, full of volume that is made almost entirely from the Sangiovese grape. As you head outwards towards the Tuscan coast, a so-called "Super Tuscan" is produced by blending the iconic ingredient with other non-native grapes including Malbec, Cabernet Sauvignon and Syrah. It is this flavourful blend that draws in some of the highest retail prices in the country.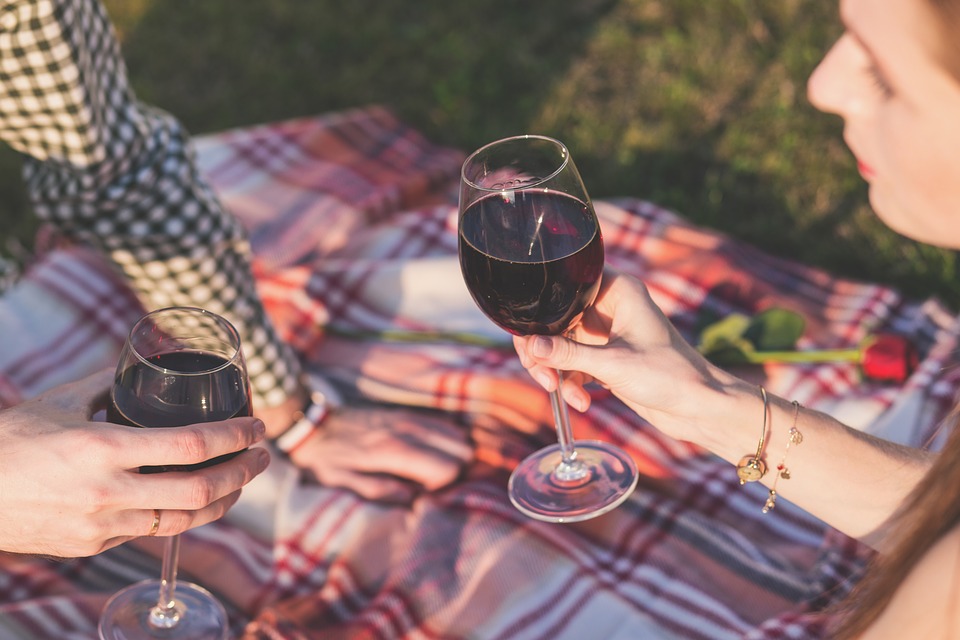 Prices and Value
Wine is produced in all ten of Tuscany's provinces and out of the seventy DOCG wines, eleven of them are from Tuscany. DOCG means that the designation of origin is guaranteed, and the classification is one of the highest recognition that can be awarded to wine. About 5% of all Italian wine production is from Tuscany, but this makes up more than 10% of the total value. This is because the pricing is so varied, with a basic Chianti blend commanding 10 euros in revenue, while the very best single-estate Tuscan or Super Tuscans can reach hundreds. That said, the mid-range wine is the best option in terms of value for money, and visitors to the region can visit a restaurant and choose between some fantastic wine without the premium price tag.
The Sangiovese Grape
What really sets Tuscan wines aside from the crowd is the quality of the Sangiovese grape, and when you combine that with a desirable location and some of the most experienced winemakers in the country, the sublime wine becomes sought after far and wide. The grape will grow particularly well in its native territory and microclimates, and as with some of the other well-known grapes including Cabernet Sauvignon, Chardonnay, Merlot and Pinot Noir, it is rarely grown correctly outside its home climate. There have been several attempts to replicate the fine wine in California, Australia and Chile, but none have met the standards set by that of Tuscany. Sangiovese grapes are typically grown in southern parts of Tuscany, as it ripens late and needs as much sunshine as possible.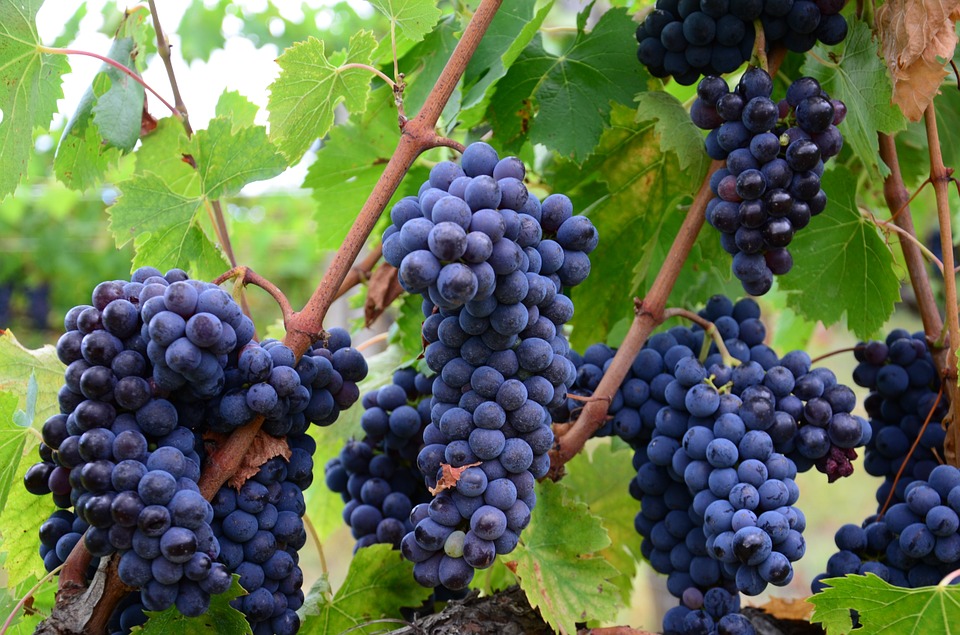 The Taste of Tuscany
As you sit in a fine-dining establishment and are about to enjoy your first authentic taste of a Tuscan red, you will probably notice the strong fruity scent of the bottle, namely redcurrants and cherries. The first taste can be somewhat acidic with young wines to counteract the fruits while tones of oregano or thyme are also said to be present.  It is often said that the taste of wines produced in this region is as varied as the landscapes of which it comes from and the differing soils, climate and elevation all contribute to creating power, finesse and ripeness.
How is it Made?
Tuscan wine is commonly fermented in stainless steel tanks or glass-lined cement vats, depending on the place of production. Almost all wines are aged in Oak, and usually riservas have had more time in oak than the humbler wines – however, this is not always the case and the process is not as rigid as that of Rioja in Spain. Oak barrels of varying sizes and origin are used to age the wine in what is a complex yet interesting process. Many vineyards up and down the country will offer tours of the entire wine-making process, from growing the grapes to ageing the wine, and knowledgeable tour guides will be able to provide further insight to the required conditions at every step.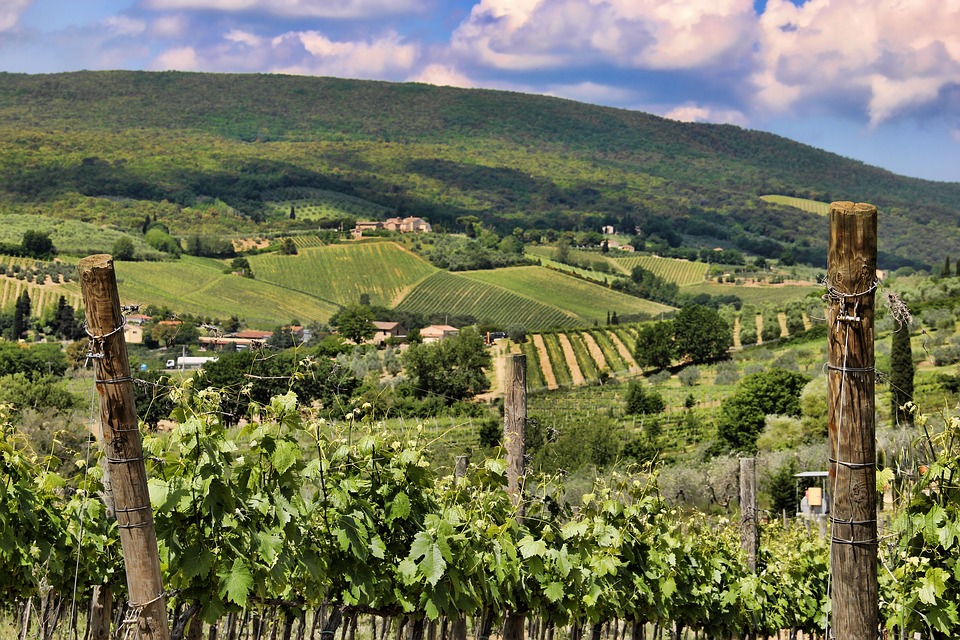 Regions and Sub-regions
Believe it or not, the Tuscan area is further divided into DOC regions or communes, with some of the finest producers including Chianti Classico, Chianti Rufina, Brunello di Montalcino, Vino Nobile di Montelpulciano, Bolgheri and San Gimignano, and you should look out for these names on your bottle of choice. Most will use the classic Sangiovese grape to give you a truly authentic Tuscan experience, however, some, namely Bolgheri, blend with large amounts of Cabernet Sauvignon, Malbec and Syrah to create a truly sensational Super Tuscan. We highly recommend you try this during your holiday to Tuscany, but be warned, you may need to save it for a special occasion as the price tag is fairly high in comparison to the others.
We hope you've enjoyed learning a little more about the wine produced in Tuscany, and that you are now looking forward to your Italian escape! For more inspiration on what to do during your holiday, check out our recent blog post 7 Tuscan Towns You Need to Visit. If you are yet to book a holiday but are interested in sampling some of the fine wine, don't hesitate to browse our extensive range of luxury villas and holiday accommodation online today! Alternatively, contact a member of the passionate and friendly team here at Essential Italy who would be more than happy to listen to your priorities and preferences to find the perfect abode for all your wine-tasting escapades!