Enjoy Pugliese country life in style in a charming masseria
Posted on 6 April 2016 in Italy, Puglia
As well as the iconic whitewashed trulli, the Pugliese countryside is also dotted with charming masserie, fortified farm houses located on vast country estates.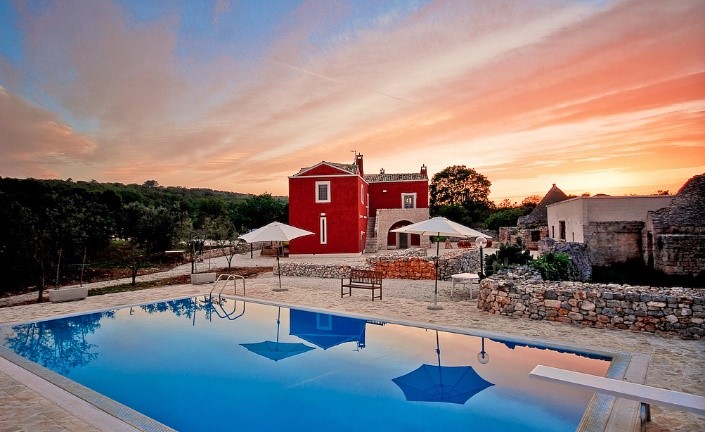 The best place to find these stunning plots are near the coast between Bari and Brindisi, endearing referred to as the masseria coast, though others can be found on the Salento Peninsula, which is home to some of Italy's finest beaches.
Masserie have existed for centuries and historically were the beating hearts of local agricultural centres. Large in size and built from thick blocks of tuff stone, masserie were often made up of two floors. The massaro, the landlord or manager of the farm, would live on the upper floor, while the lower floor would house the stables, workrooms, storerooms and living quarters for the farmhands. Surrounding the main farmhouse are large fertile gardens, courtyards and fortified walls, which were originally built to protect the masserie from invading Turks or pirates between the 16th and 19th centuries.
Beyond these walls lie acres of fields and farmland, producing olive oil, wine or fruit and vegetables. The produce grown onsite means that masserie can be mostly self-sufficient, and during your stay at a traditional masseria, you may even have the opportunity to sample some of the home-grown products, be it a refreshing glass of wine or a lovingly cooked local dish.
Ranging from the rustic to the luxurious, masserie always stand out with their impressive architectural design, and with their additional amenities, such as a swimming pool, gardens and miles of farmland, in recent decades many have been converted to private accommodation, offering holidays in Puglia without compromising on the authenticity. Many are also located in close proximity to other interesting sites in Puglia, such as the archaeological site of Egnazia, the Baroque city of Lecce and the trulli-lined town of Alberobello, making them the perfect starting point for a memorable Italian holiday.