Celebrating a Buon Natale in Italy
Posted on 30 October 2015 in Italy
Like in several other European countries, Christmas is a major holiday in Italy, which has spurred on all sorts of wonderful cultural Christmas traditions. Christmas, or Natale, in Italy is highly family-centric and mostly enjoyed with loved ones, though customs vary from region to region, making every region an excellent place to enjoy the Christmas holidays. Gather your family and friends for a special Christmas get-together in an Italian villa and experience Christmas like an Italian with our guide below: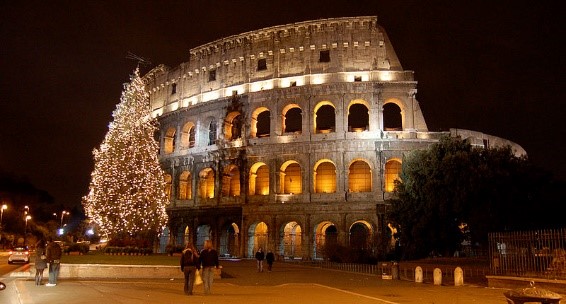 The Italian Christmas season typically begins on December 8
In Italy, the Christmas celebrations begin on December 8, the Day of the Immaculate Conception, with shops and homes beginning to put up their Christmas decorations and Christmas markets beginning to bring the festive atmosphere to the streets. In main city piazzas, you can find huge Christmas trees adorned with decorations, as well as Babbo Natale, the Italian Father Christmas, spreading some Christmas cheer.
Keep an eye out for the intricate presepi
Alongside the lights, wreaths and trees, many churches and piazzas also display presepi, ornate nativity scenes traditionally handcrafted by artisans. Naples in particular is especially well-known for its presepi, which has entire streets lined with workshops dedicated to the craft.
Don't miss out on the carol singers and bagpipe players during the Novena
The Novena is the term for the eight days leading up to Christmas, and during this time, you're sure to hear carol singers singing traditional songs throughout the neighbourhoods of towns and cities. In southern Italy and Sicily, you may also spot some bagpipe players, or zampognari, who travel from the nearby mountains to play their traditional folk songs.
It is traditional to avoid meat on Christmas Eve
In order to purify their bodies for Christmas Day and prepare for the feast ahead, Italians avoid meat with their Christmas Eve meal. This doesn't stop them from over-indulging on fish and vegetables, with some families having as many as seven courses for their Christmas Eve celebrations.
Bring in Christmas with the Midnight Mass
In many parts of Italy it is traditional to bring in Christmas as the clock strikes by attending the local church for Midnight Mass. During this special Mass, the pope also attends the service held at St Peter's Basilica in Vatican City.
Christmas Day is an extravagant feast
Following the Christmas Eve 'light dinner', Italians then invite their family and friends over on Christmas Day for a lunch which tends to continue throughout the day, with a variety of traditional Christmas times including pasta in brodo (pasta in broth) and roasted meats. No Christmas is complete without sampling some of the classic Italian breads, such as pandoro and pannetone!
Festivities continue through to January 6
Celebrations often extend into December 26, the national holiday of Santo Stefano, when families traditionally get together and enjoy the leftover Christmas dishes and sweets. The Christmas season, however, doesn't in fact end until January 6, the Day of the Epiphany and the twelfth day of Christmas. On the eve of the Epiphany, another large meal is prepared, and, depending if a child has been naughty or nice, they are given coal or sweets.
When you exchange gifts depends on which region you're in
Like with many other Italian Christmas traditions, gift giving varies from region to region, though are most commonly exchanged on Christmas Day after lunch. Small cities in northern Italy, however, give their gifts on December 13, in the belief that they have been brought to them by the blind Saint Lucia. In some places, such as Rome, Bologna, and Venice, the people wait until the epiphany, when la befana, a good witch who is believed to have followed the wise men, pays a visit and drops off presents. Regardless of when they open their presents, however, all Italians proudly display their gifts in a pyramid-shaped ceppo, which is accompanied by candles and other decorations.
Image: Jakob Montrasio-Fan