Celebrate a 900-year-old tradition at Gubbio's Corsa dei Ceri
Posted on 11 May 2016 in Umbria
Every year for almost 900 years, the town of Gubbio in Umbria has celebrated an event known as the Corsa dei Ceri. Held every May 15th, the event is one of the largest in Umbria, involving the whole town as well as hundreds of tourists and visitors. For those staying at our holiday villas in Umbria, the town of Gubbio should be just a short distance away.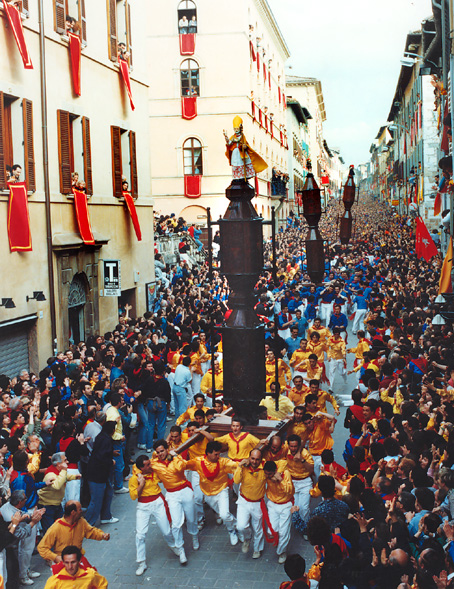 Translating into English as Race of the Candles, the event was established to celebrate the victory of a local bishop, St Ubaldo, who defeated opposition in a war in the 11th century.
The candles alone are extremely impressive, mounted on three extraordinary wooden structures, each measuring around eight metres tall. These structures are all decorated with a statue of a different celebrated saint: St Ubaldo, the patron saint of masons, St Anthony, the patron saint of farm workers and St Giorgio, the patron saint of merchants.
The main event begins at the town's Basilica of St Ubaldo, where a ceremony is held before the candles begin a long procession through the streets of Gubbio. After the procession, the race itself begins at around 6pm, and truly is a spectacle not to be missed. Heading down the Dante descent to the Piazza della Signoria, before climbing the slopes of Mount Ingino to return to the Basilica of St Ubaldo, thousands of people pack out the streets to witness this final event, where the three enormous structures are transported along the route as quickly and carefully as possible.
Although the event is referred to as a race, according to tradition, the structure bearing the St Ubaldo statue is always the first to enter the Basilica, meaning the winner is not decided by speed. The winning team of candle bearers is in fact determined by the degree of skill demonstrated in carrying such a large structure through the winding streets, and is decided by the townspeople who have been observing the spectacle.