Carnival of Acireale returns to Sicily this January
Posted on 13 January 2016 in Sicily
Considered one of the most beautiful and exciting carnivals in Sicily, the dazzling Carnival of Acireale returns once again for 2016 from January 30-31 and a week later from February 4-9.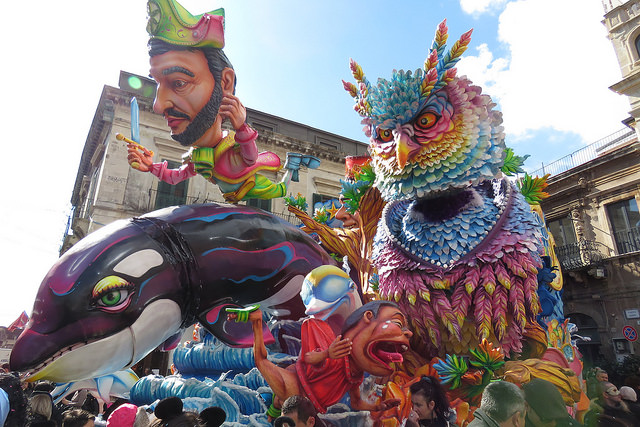 Dating back to the 16th century, the carnival is an almost-ancient tradition, and one of the island's oldest events, having taken place every February since as a party for the townspeople. In its humble beginnings, the event even had the peculiar tradition of throwing rotten eggs and citrus fruits into the streets, until it was banned by an edict.
Throughout the centuries, several additions have been made to event which have helped to shape the carnival that thousands of spectators enjoy today. In the 1700s, for instance, folk poets began to perform improvised rhymes on the streets, and the 19th century introduced "cassariata", a parade of horse-led carriages which sprinkled confetti and sweets down to the crowds below.
One of the carnival's best-known traditions, the floats of people adorned in papier-mache masks, did not come about until the 1930s, creating a host of colourful characters, with the procession becoming more extravagant and outrageous every year.
The Carnival of Acireale is now such a hit, in fact, that the town even holds a second edition in August, making the most of the warm summer nights, with the highlight being the Parade of Grotesque Floats. If you're planning a holiday to Sicily this year, why not take in a little of the exciting local culture and head to the Carneval di Acireale?
Image: Carneval.com Studios, available under Creative Commons