Ascoli Piceno's medieval jousting gets underway on August 7
Posted on 4 August 2016 in Le Marche
A medium-sized town tucked away just inland from the coast in the often-overlooked region of Le Marche, once a year Ascoli Piceno holds a thrilling event for all the family and some of the best jousting you will see in Italy. If you're staying at our Le Marche accommodation this August, this is an event not to be missed.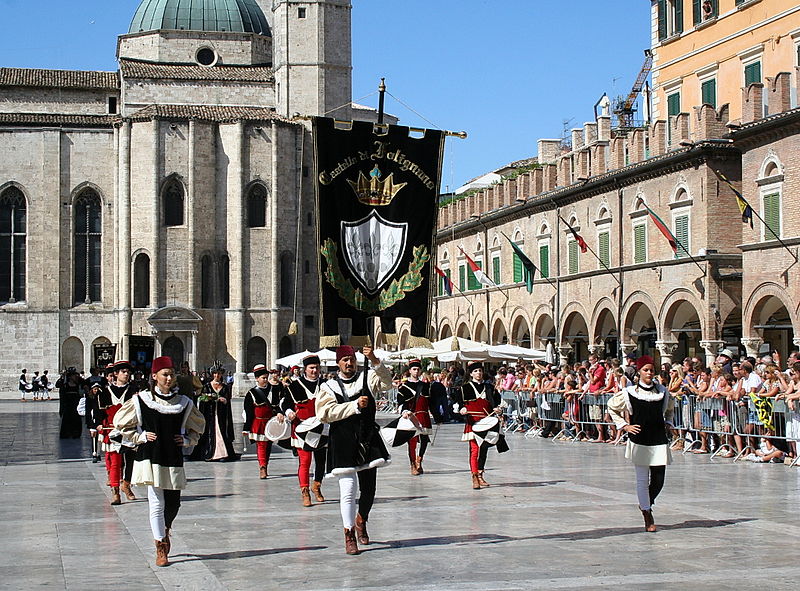 On the first Sunday of August, the town holds the Quintana – a traditional medieval procession followed by a jousting tournament. A revived tradition, the Quintana's customs are based on medieval documents and artworks. If you want to get involved with an event that's off the beaten tourist track, you'll find it with the Quintana.
The day begins with a stately procession through the main streets of Ascoli Piceno. Donning traditional medieval costumes, more than a 1000 residents take part in the parade, either on foot or on horseback.
Following the parade, the crowds pack into the grandstands of the jousting field, before intensely watching the six competitors. Each competitor represents a specific sestiere (district of the town), with the spectators each cheering on the rider representing their district. The competition is a heated one, with the crowd intensely involved with the jousting and the scores all the way through the afternoon.
Opening ceremonies mark the beginning of proceedings before the main event: the jousting. The riders, with their lances, then race around the track before lunging forward with their lance, hoping to successfully pierce a hole in a cardboard figure. Each rider is then given a score based on their performance, with each score posting erupting in huge cheers from the fans. Eventually, after many hours of jousting, the winner is decided, with the ceremony celebrating their victory held in the evening and well through the night.
During the evening, the town enjoys a whole host of festivities, beginning with another procession, led by the proud winner of the joust. Like with the morning procession, the entire parade once again wears traditional medieval costume, passing through the stunning Piazza Arringo and deeper into the town's old quarter as the day reaches dusk.
Following the procession, friends and families of all ages gather together, eating, drinking and socialising, with all the shops also opening their doors late into the night. Even the church stays open until midnight, with classical music resonating within its walls. While many continue to dine al fresco, the whole town looks up to the skies at the end of the night, as the festivities are brought to a close with a dazzling firework display.
Image: Infinitispazi, available under Creative Commons