Zaira's 5 favourite dishes in Tuscany
Posted on 26 March 2012 in Tuscany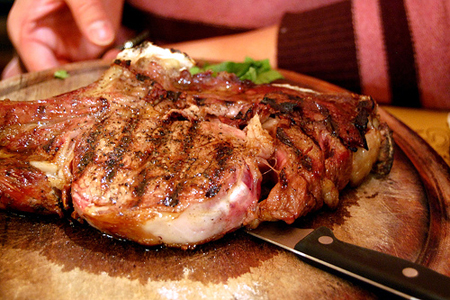 Bistecca alla Fiorentina by McPig
Pici con le briciole – a thick spaghetti like homemade pasta with a sauce made of stale bread  crumbs and slightly cooked in virgin olive oil, garlic and red hot chilli.
Ravioli mugellan – ravioli filled with potatoes seasoned with garlic, parsley, tomato paste and served with a duck sauce or butter and sage.
Bistecca alla fiorentina – best loved dish by Tuscan people, a large T-bone steak  grilled over very hot coals, seasoned with salt and black pepper, not to be overcooked.
Fagioli all'uccellett – sausages cooked in a tomato sauce with white beans.
Zuccotto – a typical Florentine dessert made out of a sponge and flavoured with cream, chocolate and a hint of liquer, served very cold.