World's Biggest Christmas Panettone Baked in Italy
Posted on 20 December 2017 in Italy
The baking and eating of Panettone in Italy is as much of a Christmas tradition as Christmas pudding in the UK. Thousands and thousands of Italians either spend the day baking the celebrated cake or, buy one from the shop to have in their homes and share with their families during the festive season. As well as buying gifts, panettoni is regularly gifted over the Christmas period, with many families receiving as many as 15 loaves from friends and family. The gift is said to evoke feelings of luck, love and joy when shared with loved ones.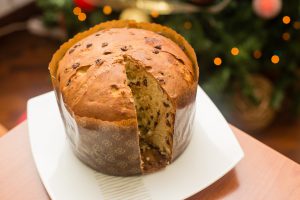 Panettone has remained a firm favourite amongst Italians and now, it is eaten and celebrated all over the world. The bread like cake is enjoyed as either a snack or a dessert. Panettone is made with eggs, butter, flour and a range of dried fruit peel and raisins, depending on preference and taste. The Italian passion for Panettone was expressed in the country this month, when the largest of its kind was baked and served at the Victor Emmanuel II shopping gallery. The cake weighed over 139 kilograms and towered at around two metres high! The impressive bake was displayed to visitors and free slices (out of approximately 1,200 slices) of the delicious bake was served.
The panettone was made by the skilled and experienced patisserie, San Gregorio. Even with over 60 years of experience, baking a panettone this large was quite a challenge, with alterations being made to the traditional method to ensure the cake was cooked to perfection. Angelo Bernasconi, the owner of the patisserie, told reporters that the recipe had to be much dryer than usual, else the cake would have misshapen. Traditionally, a panettone is flipped upside down after baking, to encourage the butter in the mixture to fall towards the top of the cake; we wonder whether this step was missed out of the challenge, as the flip may have been much riskier considering the substantial weight and height of the bake!
Panettone is one of Italy's much-loved and celebrated traditions, find out more about the history and legends of the Italian Panettone, or, why not try and have a go at baking one yourself during your stay at your Italian villas? We would love to see the pictures of your attempt via our social media channels!
Image credit: Nicola