Why you should spend your summer holiday in Sardinia
Posted on 29 February 2016 in Sardinia
A melting pot of culture, boasting incredible nature from end to end, Sardinia is a truly unique island unlike no other, and though the island has its ties with the mainland, there is an atmosphere and a more relaxed pace of life here that sets it apart. Here's why you need to enjoy a stay in our Sardinia luxury villas this summer – it'll be a trip you'll never forget!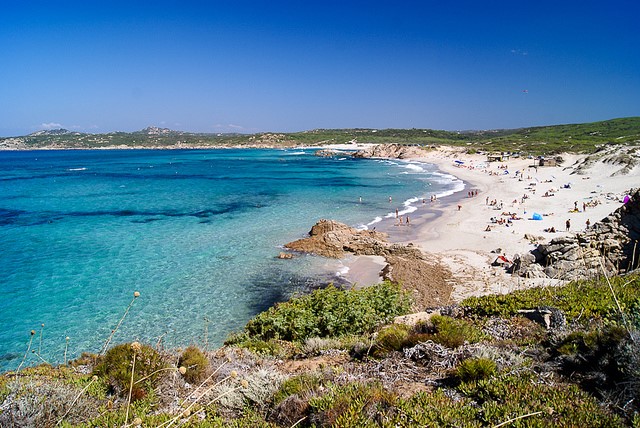 Golden beaches
Sardinia boasts some of the world's best beaches, each lined with golden sands and tiny pink quartz pebbles, looking out onto crystal clear turquoise sea waters. Exploring these beaches reaps even more rewards as you discover incredible coves and private pieces of paradise.
Watersports
Whether you're just looking to enjoy a relaxing dip or jump into something more active, Sardinia's waters offer plenty of choice. The clear waters are perfect for snorkelling and diving, while many beaches offer excellent winds for surfing, kitesurfing and windsurfing.
Charming towns and cities
Sardinia is full of wonderful towns and small cities, overlooking beaches, perched atop mountains and amongst rolling countryside. Its architecture reflects the several groups of people and cultures which have settled on the island over the centuries, reflected in its churches, houses and winding streets.
History and heritage
As a result of its central location, several colonies have made their mark here, especially the Romans,  who left behind an archaeological site at Nora, and an amphitheatre in Cagliari, just to name a couple. There's also remnants of ancient Greek settlements, though the most famous historical sites have to be the nuraghe – shepherd's huts built between 1900 and 730 BC.
Unforgettable walks and hikes
Sardinia's landscape is incredibly varied, meaning there's a huge choice of memorable hieks to be had all over the island. If you're in it for the long haul, there's the 'selvaggio blue' route, where you travel between coves along the entire eastern coast of the island. Further inland, there are also climbing opportunities at spots such as by the Gorropu Canyon (Europe's deepest).
Birds and wildlife
A wide range of birds and wildlife can be seen across Sardinia, even just from the front door of your holiday accommodation. One of the highlights is being able to see large colonies of pink flamingoes in their natural habitat.
Concerts and traditional events
Sardinia is hugely proud of its heritage, and you'll see this in several events celebrated throughout the year, such as the Festa di San Simplicio and the L'Ardia di San Constanino, two traditional equestrian events where the people don historical costumes and party in the streets. The island is also perfect for music fans, with a host of music festivals and free concerts taking place throughout the summer.
Delicious food
Sardinia's cuisine is centred around local produce and slow food, with the end results being well worth the wait. Dishes vary all over the island, with each region or even town having its own specialities. One of Sardinia's best known dishes is Su Porcheddu, a suckling pig roasted slowly on a spit.
Fine wines
Though the wines produced in mainland Italy are far more well-known, Sardinia also has its own collection of excellent wines. Enjoy a glass out on the sunny terrace, learn more at a vineyard tour, or mingle with the townspeople while sampling the many wines on offer at the wine festivals held in each villages throughout the year.
You may also enjoy reading:
• 10 great facts about Sardinia
• The local cuisine of Sardinia
Image: pr1me, available under Creative Commons