Via Francigena campaign to become UNESCO World Heritage Site
Posted on 2 July 2015 in Italy
Backed by over 50 Italian councils, the region of Tuscany has begun its campaign to have its section of the ancient Via Francigena road designated as a UNESCO World Heritage Site.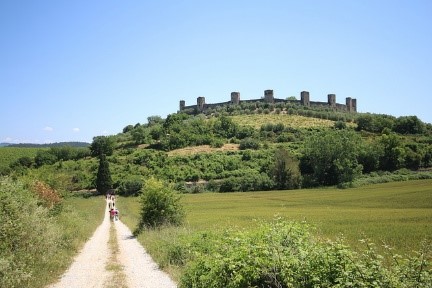 The campaign has also had backing from Italian tourism minister Dario Franceschini, as well as the mayor of Monteriggioni, one of the many ancient towns located along the old pilgrim route, with the mayor commenting that the Via Francigena is 'a driving force for the whole of the area and for the economy'.
The Via Francigena is an ancient pilgrim route which runs from France, ending in Rome, and also running through Switzerland on the way. By some, the starting point is in fact considered to be in Canterbury, just over the English Channel from France. It was an especially important road in medieval times, acting as a pilgrimage route for those wishing to visit the tombs of the apostles Peter and Paul, as well as the Holy See, and is still travelled by devoted pilgrims today.
As well as being a road rooted deep in religious and cultural history, it is also surrounded with stunning changing landscapes, with many historic towns located on the way. For those staying at our villas in Tuscany, the Via Francigena is definitely worth a visit, in order to find out exactly why it is being promoted so heavily as a candidate for a UNESCO World Heritage Site.
Image: Visit Tuscany, available under Creative Commons