Trulli Country Farmhouse
Posted on 17 September 2009 in Uncategorized
Keith Sheppard stayed at Trulli Country Farmhouse. He writes:
The Trulli Country Farmhouse turned out to be a truly great find. If, like me, finding it for the first time proves to be a bit of a challenge and if, like me, you are a GPS anorak, the farmhouse's exact location is 40°44'47.48"N, 17°23'21.8E.
We had booked a week here followed by a week at a posh hotel on the West coast. In some ways we might have done better to have chosen two weeks at Trulli. It would certainly have been cheaper, plus you get a fridge where you can store your own drinks without falling foul of petty hotel regulations.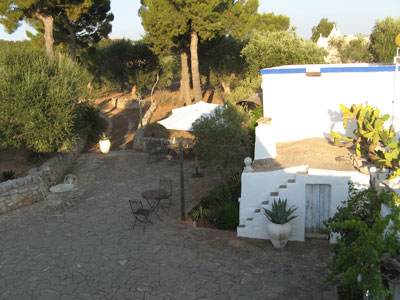 Anna's cooked breakfasts were a highlight, especially given that said posh hotel wanted to charge an extra 7 Euros for a cooked breakfast. Our express aim was to do as little as possible on our holiday, so most days we didn't bother going off site, sitting by the pool reading or, in my case, writing.
The only really compulsory excursion is to the caves at Castellana. Provided you've the stamina for a 3km walk, it's well worth paying the extra for the long tour. When we went, it cost 50% more for a visit three times as long, and which included the spectacular white cave. There are only a couple of guided tours in English each day so, if you can, check times in advance and allow a good half hour for queuing for tickets. Otherwise it's pot (hole) luck. For once, we got it right by pure chance and arrived just in time for the full English tour.
Cisternino, just up the road from Trulli, is a veritable hive of restaurants, mostly in the pedestrian area off the central square. We weren't too impressed with the Taverna Della Torre, which others had recommended, but maybe we caught them on an off day. Our favourite was La Locanda di Zia Rosa, which sounds so much more romantic than Aunt Rose's Tavern! Their assorted antipasti for two is a must. The dishes just keep coming – and the meal was significantly cheaper than Della Torre. We went there twice during our week.
Parking in Cisternino is a nightmare. If you are happy to walk a fair way, it's best to drive through and you can usually find a place in the outskirts on the far side of town. If one of your party can't walk too far, you can drop them off in the gardens of the belvedere, where there are plenty of benches where you can indulge in that most popular of local pastimes – sitting and watching the world go by.
If you fail to find a parking place first time round, just keep circulating. You should find something eventually.
Our room
I can thoroughly recommend the cavernous Moroccan room, with its North African style décor. The ice cold beer and bowl of snacks awaiting our arrival were a nice touch. A couple of steps take you down into the en suite bathroom.
We had been in the Moroccan room for nearly 36 hours before we discovered the switch that operated the giant fan on the ceiling. It had been cunningly disguised as the switch for a power socket. When we did discover it we nearly regretted it.
Rather than the gentle swishing I'd been led to expect by countless Humphrey Bogart movies, it leaped into life with a ferocity that would have graced the wings of a 1950s air liner. Had it been mounted the other way up, the whole room would surely have taken off and headed for somewhere that wasn't Kansas.
In the end we declined to use it for fear of the mortal danger that would ensure should it break loose from its moorings. Fortunately the air conditioning achieved the desired effect with rather less drama.
In the bathroom, the taps were, unfortunately, labelled in English. I say unfortunately because the Italian plumber, perhaps confused by the similarity between the word "cold" and the Italian "caldo" (meaning hot), had got them the wrong way round in the shower. The first time I used it I was convinced there was no hot water.
An extra guest
Then, of course, there was the holiday romance. We first saw her on about the second day – wandering around the gardens and clearly interested in what we were doing but too timid to approach.
I don't think I've ever seen a dog so cowed. Her tail was permanently down between her legs and she backed away from any approach. Slowly she dared to come nearer provided we made no movement in her direction. Jen left a hand, nonchalantly, over the side of her chair and eventually she came up and sniffed it. We shared some lunch and after a while she allowed herself to be stroked. Before long we were inseparable friends.
She was extremely thin and I've never seen a dog so grateful for a bowl of water. From her fear of sudden movements it was clear she had been mistreated but she had the sweetest nature you could possibly imagine. I don't think she was very old – maybe nine months or so.
She followed us everywhere, sleeping outside our room and greeting us joyfully when we emerged in the morning. If we went to the pool she would follow us, stop for a quick tickle then retire to a shady spot from which she could keep an eye on us – following us back when we went for lunch.
If we went out for dinner, she would sit at the top of the drive watching us go. When we returned, as soon as we were out of the car she would come bounding over, whimpering with excitement (I never heard her bark) and throw herself violently onto her back to have her tummy tickled.
Our big concern was what would happen to her when we left. Anna clearly didn't share our enthusiasm for the new guest, so who would feed that poor emaciated body when we were gone?
Fortunately for us, and even more so for the dog, the English owner of Trulli turned up for a short stay later in the week. He was almost as besotted with the dog as we were.
The next morning, Ella (as we had now christened her) had a brand new matching dog bowl and water dish, and a plentiful supply of dog food.
A few days later, her stomach had filled out noticeably. She was also starting to behave like a proper dog, walking around with tail erect, taking an interest in whatever was going on and even finding the energy, occasionally, to chase the cat. She was still timid, but willing to welcome the approach of anyone who spoke softly and didn't move too suddenly.
The question still remained, though, what would become of her when we left. We even texted our daughter to check the UK quarantine arrangements to see if there was any practical way we could take her on ourselves.
A simpler solution materialised at the end of the week when some Italian friends of the owner called in for a couple of days. They lived in Rome and had recently lost one of their two dogs. They fell in love with Ella and decided she would make the perfect companion for their surviving pet.
At the end of our week, it was sad to say goodbye to our new and faithful companion but at least we could leave, secure in the knowledge that Ella was destined for a new and happier life in Rome.