Things to see and do in Taormina
Posted on 2 August 2015 in Italy, Sicily
Taormina is one of Sicily's most fascinating towns, steeped in history, and filled with bustling restaurants, shops and bars, all set to the background of the breathtaking Mount Etna. As a result, there is plenty to see and do with something for everyone to enjoy, from historical landmarks to incredible beauty spots, and we have a range of wonderful Sicily hotels, villas and apartments just metres away from all the action.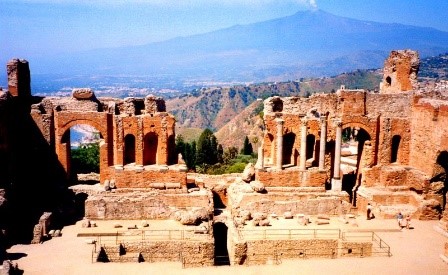 Greek Theatre
Built in the third century BC, the Greek Theatre is one of the main remnants of the town's ancient past under the rule of the Greeks. Since it was built, it has been renovated by the Romans, and it continues to entertain crowds today, holding performances throughout the summer. Built into the hillside, the theatre also takes in some great views of Mt Etna as well as the sea and coastline below.
Medieval Castle and Madonna della Rocca
Found positioned on the top of Monte Tauro are the ruins of a medieval castle, where you'll be able to soak up some of Taormina's long history as well as the outstanding views of the town below, as well as the beautiful coastline looking out to sea.
Corso Umberto
The main street leading through the town, Corso Umberto, is a lively hub of activity, hosting shops and bars, as well as a number of squares which are perfect for relaxing, enjoying a drink and watching the world go by.
Piazza del Duomo
The Piazza del Duomo is home to one of the most prominent landmarks of Taormina, the Church of San Nicola. Built in 1400, it has a striking appearance, with its solid brick structure looking out onto a beautiful Baroque-style fountain, decorated complete with a centaur, which is the symbol of Taormina.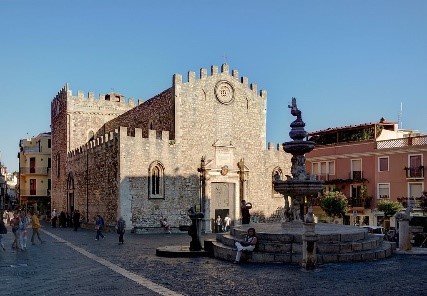 Medieval Quarter
Preceded by a clocktower gate, Taormina's medieval section is filled with fascinating winding narrow streets, each lined with shops selling locally made clothing, souvenirs and crafts. The medieval quarter is the perfect place to lose yourself in for a morning or afternoon, and opens up another chapter of the town's history.
Images: Clemensfranz, Berthold Werner, available under Creative Commons