Sweet Sicily
Posted on 18 October 2011 in Sicily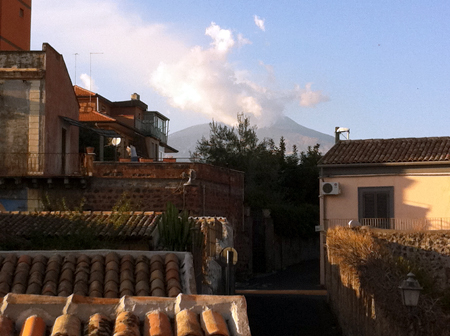 Helen writes: Sarah and I have just returned from a week in Sicily. The temperature didn't drop below 25°C during the day, and even the evenings were exceptionally warm.
We spent two nights at the beautiful Borgo Petra in Mascalucia where the owners Cristina and Toto, fed us a fabulous feast each morning of fresh bread, cheese, fruit (including fresh cachi and prickly pears) and cakes. The highlight for me were the cakes – particularly the honey and hazelnut cake – truly delicious. Here's Cristina's recipe so we can all get baking…
Small cakes with honey and hazelnuts
80 grams butter
40 grams white flour
45 grams ground hazelnuts
65 grams sugar
50 grams honey
3 egg whites
1 pinch of salt
6 small round moulds (8.5cm diameter)
Preheat the oven to 180°C. Melt the butter, sugar and the honey together (not over direct heat, but in a bowl over a saucepan of boiling water). Cool and add the egg yolks. Add a pinch of salt to the whites and beat them until the mixture is firm. Add the flour and egg white tablespoon by tablespoon to the honey, sugar and butter mixture. Grease the moulds with butter and sprinkle with flour and pour the mix into the mould. Bake for 25 minutes – it's ready when you can put the blade of a knife into the cake and it comes out clean. Bingo: Fantastic hazelnut cakes.