Sunshine in Sardinia
Posted on 9 September 2009 in Sardinia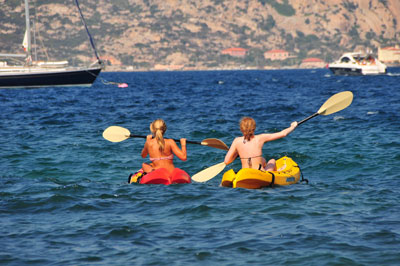 Ian writes: for the third year running Helen and I took our families to Porto Rafael in Sardinia. Jack, Leo and myself caught the ferry from Piombino to Olbia. Sarah was there to greet us and show us in to Casa Wasa – a new property for next year – located right on the sea front and with access to a private jetty and two kayaks (see below). It's an absolutely fantastic house.
Helen, Malcolm and family flew into Alghero the following day, and we were all bobbing around in the sea by lunchtime. There followed day after day of lazy days at the beach, kayaking, eating, swimming, tennis, snorkelling and general larking around. Helen and family stayed in La Torretta and being just across the beach from Casa Wasa it was the perfect set up. The children could all wander from house to house and we could watch over them from either terrace. It really was the perfect location for the children to fully enjoy themselves and for us to sit back and relax. This year we found a new beach on the Costa Serena which was fantastic fun – huge rocks provided the perfect launch pad for jumping into the crystal waters.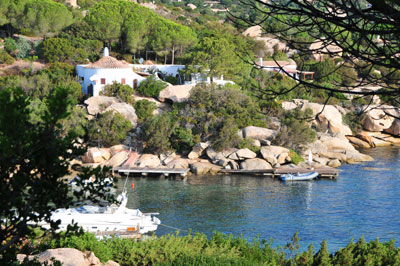 We also had a great pizza evening in Palau; proving that if one is careful it really is possible to dine out in Palau for twelve Euros each at San Giorgio's. Pretty reasonable we thought.
Highlights include the boat trip to the islands (thanks to Sarah for organising this), diving off the rocks at Costa Serena, dinners in Casa Wasa's garden and kayaking up and down this fabulous coastline. And the low point: leaving.