Step back in time at Su Nuraxi, Sardinia
Posted on 29 January 2016 in Italy, Sardinia
Having acted as a crossroads of the Mediterranean for centuries, one of Sardinia's main draws is its fascinating history, which draws from several different cultures and colonies, making it an excellent choice for Italian holidays. One of the main reminders of the island's former civilisation is the nuraghes, beehive-like buildings which could have acted as religious temples, meeting halls or military strongholds. Of the several nuraghes that can be seen across the island, Su Nuraxi has to be the most magnificent, and lies at the foot of the Parco della Giara near Barumini.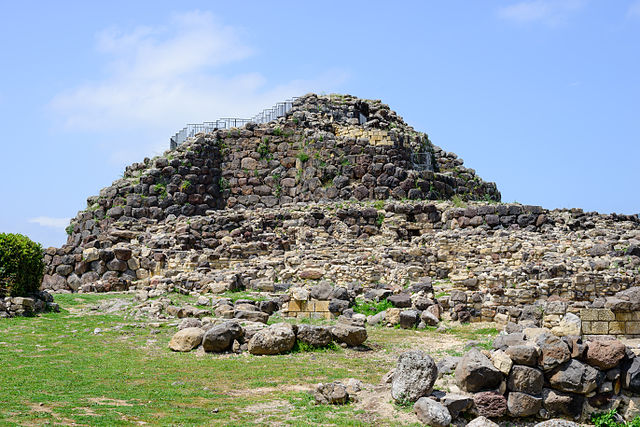 Declared as a UNESCO World Heritage Site in 1997, Su Naraxi is one of the old civilisation's most important monuments, dating back to the twelfth century BC. Its complexity is what has made it so important as well as its excellent level of preservation meaning we can still learn a great deal about the island's former civilisations.
At the centre of the nuraghe is a huge fortress, consisting of several towers – a main tower lies at the centre, surrounded by four towers and then another circle of seven. The only way into the fortress is a "sky door", which was discovered by archaeologist Giovanni Lilliu in the 1950s. With the information found from his discoveries, we now know that Su Nuraxi was inhabited until the third century AD. The rest of the nuraghe consists of a vast, maze-like village featuring narrow lanes, houses, meeting huts and wells dating back over 3500 years. The oldest part is the truncated conical central tower, originally estimated to be over 19 metres high, consisting of three typical Nuraghe rooms known as Tholos.
A tour is obligatory if you're looking to visit the nuraghe, though there are departures every half hour, with reservation recommended for large groups. In the Barumini area you'll also find other nuraghes, such as Su Mulinu in Villanovafrance, paired with an archaeological museum. Throughout Sardinia, over 7000 nuraghes still remain intact, with other well-known examples including Nuraghe Santu Antine at Torralba and Nuraghe Palmavera at Alghero.
Image: Norbert Nagel, available under Creative Commons