Soak up Sicily's Greek heritage at Syracuse's Greek Theatre Festival
Posted on 5 May 2016 in Italy, Sicily
2500 years ago, the Sicilian city of Syracuse (Siracusa) was not a part of Italy but was in fact one of the most important cities in the ancient Greek empire. After a battle with the rulers of Athens in 414BC, Syracuse further cemented its status as one of the key commercial and cultural centres in the Mediterranean.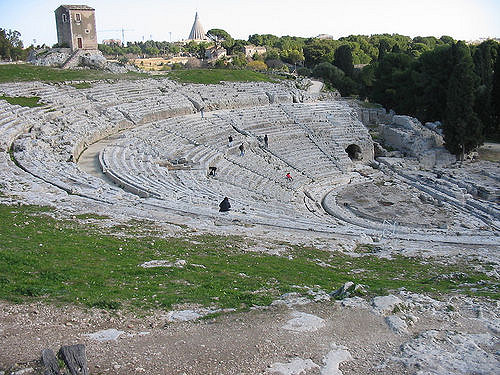 As one of the Greek empire's strongest and most important cities, it's only fitting that a remnant of the city's great heritage remains today in the form of one of the most impressive Greek-style theatres. One of the largest ever built, it contains 59 rows of seats housing up to 15,000 spectators, entertaining people in their droves with dramas, comedies and tragedies.
Throughout the year, the Greek Theatre remains one of the city's most popular attractions, though it is at its liveliest during the Greek Theatre Festival, running this year from May 13 to June 16. During the festival, people in their thousands are transported 2500 years back in time with classical Greek tales and traditional costume. As the sun sets over the city, the audience are able to enjoy the traditional and evocative atmosphere of the Greek theatre.
The festival dates back as far as 1914, and has been popular ever since, with performances varying every year, spanning the entire spectrum of Greek theatre. Over the course of the five weeks, the plays span dramas, comedies and tragedies, both directed and performed by specialists of the genre. Among the plays featuring during the 2016 season are Phaedra by Seneca, Electra by Sophocles and Alcestis by Euripedes.
If you're looking to visit the Greek Theatre as well as discover more of the fascinating history that Sicily is known and loved for, our luxury hotels in Sicily are here to ensure you have the very best stay on this stunning island.
Image: vic15, available under Creative Commons