Sicily's biggest attraction: Mount Etna
Posted on 30 September 2016 in Italy, Sicily
For many budding travellers sight-seeing is one of the main reasons to jet-set around the world. Italy is renowned as one of the most beautiful places to visit in Europe, and even the world. With numerous stunning sights that Italy has to offer; Italy can be the perfect place to visit for a romantic getaway. One attraction that should be on everyone's list to visit is Mount Etna, which was recently hiked by Princess Beatrice and Sir Richard Branson for the Virgin Strive Challenge. This magnificent volcano has a strong presence over the city of Catania, in Eastern Sicily, and is easily accessible from many Sicily luxury hotels that Essential Italy have to offer.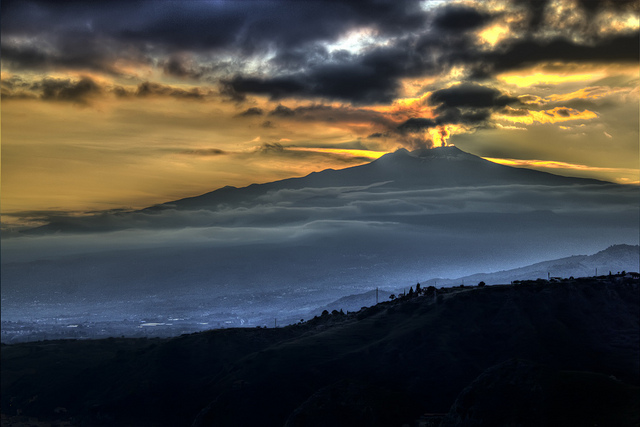 Standing at an impressive 3329m tall Mount Etna is the highest mountain in Italy and on clear days can be seen from over half of Sicily. It is commonly more known for being the largest active volcano to exist in Europe. Since its first recorded eruption in 1500 BC the volcano has had over 200 eruptions since, which won Mount Etna's title as one of the most active volcanoes in the world. Its activity is monitored intently by many, and its recent activities can be found online to help plan the best time to visit it. Mount Etna is considered one of the most geologically important spots on the continent. Don't let its activity title put you off, it's one of the safest volcanos to visit. The eruptions, which are more like lava flows than explosions, mean there isn't a build-up of lava and gas in the volcano. These 'lava flows' on a clear night can be a spectacular experience to watch from a safe distance.
The volcano is one of Southern Italy's most significant landmarks and is known for its rich history. Mount Etna first formed around 35,000 years ago and its presence has played a huge role in Italian history. When the ancient Greeks ruled over Sicily its activity led to the legend of the one-eyed monster, the Cyclops, who supposedly lived within the volcano. This legendary monster played a vital role in Homer's Odyssey, as well as various myths like the Vulcan (the God of fire) and Typhon, a 100-headed monster.
The volcano and the slopes beneath have been a part of the national park, Parco dell'Etna, since 1987. The environments vary dramatically from snow-capped mountain tops to lunar deserts of the barren black lava, beech woods and vineyards that are used to make wine.  These variations make Sicily a fantastic place to visit for travellers who enjoy all types of climate. You can enjoy skiing on the slopes below Mount Etna from November to March one day and then head over to a sunny, Sicilian beach the next!
Image Credit: Toby Charlton-Taylor, Flickr. Available under Creative Commons.