September in Puglia
Posted on 28 September 2020 in Italy, Puglia
Travels to Puglia – September 2020
A lovely round-up of a recent trip to Puglia from regular guests Nick and Annemarie. They stayed at Casa Serena September 2020
The Build-Up
We had decided to book a week in Puglia during the uncertainty of the COVID-19 lockdown and it was always going to be a risk.  Still, the flights were reasonable and so we had nothing to lose.  I wasn't going to get my hopes until I was sat on the 'plane on the runway at Gatwick.
I had decided I was going to spend time each night in the run up to our trip, learning some Italian.  I always like to learn a few phrases and nouns.  Night 1 of learning from YouTube videos went well as I mastered the numbers up to 10 and a few pleasant greetings.  Night 2 got trickier as it became apparent how important pronunciation was and how you can turn a statement into a question just by inflecting up a bit at the end (just like the Australians do!).  Night 3 my enthusiasm was waning as the speed of speech was increased to normal as opposed to 10x slow-down. In total, I managed 3 sessions of learning and so I was fit to do all the local communication once we arrived in Italy!
Saturday – travel day, ghost town, our first supermarket
Gatwick airport was literally empty – a real shock to see few cars, buses, staff, people.  We boarded a full flight however and arrived in Bari having worn surgical masks all the way.
A quick drive to the delightful Polignano on the coast led us to wonderful views of white buildings hanging out over the sea and precarious balconies tempting us to sit and drink a Moretti or two.
Now, I love shopping in supermarkets abroad. It's kind of an obsession. The new types of food, fruit and vegetables (and drinks) is properly exciting!  So, we found our first supermarket and stocked up on local food and drink.  For the record, it was Csette and I give it a healthy 8.5/10 based on product range, price, friendliness of staff and ease of ordering things from the deli counter (i.e. ability to point at various unknown food items).  More on supermarkets later……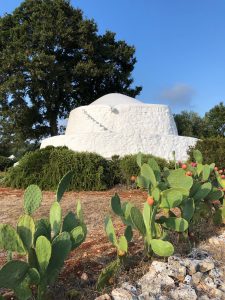 We arrived at Casa Serena and it was even more beautiful than its online page portrayed. Whilst the photos showed a pristine Trullo-style property in the middle of olive groves, nothing quite prepared us for the amazing building, location and overall loveliness.  I have stayed in many villas, gites, apartments and other properties across the world and this is without a doubt, the most delightful one yet.
Sunday – local exploration, dog whisperer, rabbit, masks and more masks
We were up bright and early on our first morning and strolled into nearby Casalini to check out the town, have a general explore and of course to hunt down new and exciting supermarkets.  As we were leaving the town boundaries, I made the mistake of making eye contact with a couple of local dogs and of course I said hello to them (or "Ciao", obviously).  As we kept walking, the dogs kept following. 10 minutes later the dogs were still following, and I thought we were going to end up with new flat mates for the week.  Eventually we tricked them by splitting up and by me hiding in an old farm building in the olive grove.  Desperate measures.
In the evening we travelled further afield to the lovely town of Cisternino with its white streets, friendly people, restaurants and a very sweet historical part with a rabbit's warren of side streets, reminiscent of the medinas in Marrakesh (in this case sparking white and not brown).  Everyone was wearing masks (young and old) and we felt safe knowing how seriously the Italians were taking social distancing.
We had a delicious meal in a small restaurant and enjoyed local produce and meat including rabbit.  We managed to totally confuse the waiter through a) my poor grasp of Italian and b) the concept of us sharing courses which lead to food being brought out in random order!  But it all tasted great, especially washed down with local Puglian red wine.
Monday – Alberobello, Casa chilling, abandoned local walk, BBQ surprise
I was told that when in Puglia, you had to visit the historic trulli town of Alberobello. The sheer number of pristine trulli is impressive, but that is just the problem, for me they were too uniform, too oriented towards tourists, and you could see far more beautiful and plentiful trulli in the surrounding countryside.  Still, the trullo cathedral at the top of the hill is definitely worth a look.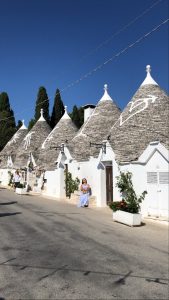 In the evening we went exploring on foot from our Casa.  Of course, we got lost, got injured on local flora and had a jolly good time. We cooked a BBQ having bought lots of random things from Csette.  It turns out we had pork, chicken and horse !
Tuesday – Monopoli, cliff jumping, local pizza
We decided to visit nearby Monopoli and a small beach called Cala Susca.  Having set Satnav to the co-ordinates, we were slightly dismayed to drive through a number of run-down estates and all we could see was an industrial area.  But then literally around the corner was a lovely cove with sandy beach and with no-one there. And to top it off there were places to jump off the cliffs into the sea.  This is something I love doing in Italy and this little cove did not disappoint.  In fact, I had to jump off the cliff 10 times before I was satisfied.
In the evening we decided to walk back into Casalini to avail ourselves of the local pizza restaurant.  An unimposing front, but a wonderful inside with a simple menu and tasty, cheap pizza.  As we started to walk back from Casalini, our memories of the local dogs came flooding back and so we had to sneak past the town boundaries, skulking from dark corner, to dark corner to avoid their gaze and subsequent trailing us back home.
Wednesday – Matera, seaplanes, Miglianico
We had a really early start (ok, it was 8.30) as today was the big travel day to Matera.  This is the world famous town made from caves (sassi), the place where they filmed the latest 007 movie, and by all accounts spectacular, interesting and generally great.  After a couple of hours driving through beautiful countryside with quiet roads and a plethora of trulli we arrived at historical Matera.  I have two words to describe this city: magical and majestic.  In fact, lets conflate it to one word: Majestical.  It is impossible to stop your bottom jaw from dropping. Repeatedly. The views are breathtaking.  The sheer scale and beauty of ancient buildings clinging to a hill and then the cliffs of caves where people used to live and work are amazing.  It was absolutely awesome, and we were privileged to spend the day there with hardly any other tourists, or in fact people.  We could not stop taking photos and exploring new side streets and buildings.  To top it off, Matera is encircled by a dramatic green ravine with a meandering river.  It was almost too much to take in.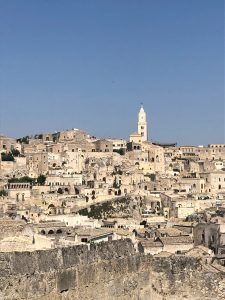 We decided to go "off-piste" on the way home and visit anything that looked interesting on the map.  I spotted a Lago (lake) and so we headed there.  It was deserted, simple, beautiful and the sun glistened off the massive reservoir.  As we settled down to enjoy the peace and majesty of the location, a couple of seaplanes came roaring over our heads, landed on the lake, took off, went around a couple more times practicing the landing/take-offs and then disappeared.  A few minutes later another two came along and did the same thing.  There was clearly a seaplane teaching school nearby.  Now that's pretty niche.  But quite a spectacle and slightly surreal.
Thursday – Mezzaluna, missing supermarket, trespassing
We spent the morning at Mezzaluna, a small crescent-shaped beach with great waves and no-one around (again).  A real Italian holiday seaside town with a nice relaxed feel.  We stuffed ourselves with cheap pizza by the beach and felt like locals.  My near-fluent Italian (by this point) was able to order 2 pizzas and 2 drinks with ease.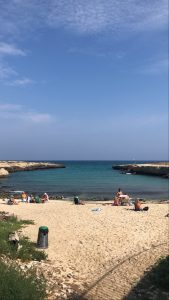 All week we had seen signs to the "Maxi Simply" which is a well-known supermarket brand in Italy.  The "Maxi" bit grabbed my interest as this must be some huge supermarket selling everything.  Everywhere we drove in the area we had seen different signs to this megapolis, but we were never able to find it.  So, one night we made it our mission to track it down.  After plenty of sleuthing and wild-goose chasing we found the road only to find out it had been sold out to Carrefour and the disappointment was palpable on my face as we pulled up to something that was good, but no Maxi.
After the crushing disappointment of the fictional Maxi-Simply, we decided to go for an exploring drive in the evening.
When travelling, we tend to go wherever looks interesting and don't tend to worry too much about conventional routes.  This time we disappeared off into the olive groves going down progressively narrower tracks.  Eventually we stumbled across a security metal barred gate which would deter most people.  My travelling partner saw this merely an inconvenience and so she got out of the car, removed the pin on the gate and on I drove.  It was at this point that we realised mistakes had been made.  It transpired we had trespassed on a large country estate with a couple sitting on the terrace of their pristine luxury villa.  No doubt they were enjoying a G&T and nuts and were not expecting a couple of nutters to be driving through their garden in a not-very-subtle black 4×4.
I then spotted the main security gate to their garden complex and it looked like it was open so I pressed the accelerator home in the hope that we could just escape their grounds and get away with it.  Oh no, it could not be that easy.  As we approached their Fort Knox front gate, we could see it was firmly locked, was at least 3m tall and impassable.  Our car was also pointing in the wrong direction.  Unfortunately, my crash-course in Italian had not prepared me to be able to translate "We're terribly sorry we appear to have inadvertently driven through your private gardens in our car and we would be most obliged if you could open the 12 foot metal security gates so that we can be on our way", so instead we shouted "Mi scusa", did a J-turn and skidded off their premises.  Apologies to the couple in the private mansion somewhere near Casalini.
Friday – Hairpins, sunbathing, meat overload
In my desire to do a nature walk in the forest, we found ourselves at Salve de Fasano, and a rather exciting drive down the mountain along with some quite vicious hairpin bends.  Our hire car (as previously noted) was large and cumbersome, other Italian cars are not – this is why the Cinquecento was invented!  As I was heroically negotiating hairpins in the 4×4, I'm sure I was annoying local drivers in their micro cars.  However, on one bend which I had to take very widely, I'm sure the driver shouted out of the window towards me "you are a fantastic driver".  Or maybe that was my Italian letting me down again.
Having survived the nausea-inducing hairpins, we spent a relaxing couple of hours on the coast near Capitolo and had the most fabulous gelato in nearby Savelltri.
In the evening we decided to go "native" and eat at a real local restaurant in Casalini.  The restaurant seemed to be purely for locals and of course nothing was in English.  My (very) limited Italian was useless in trying to decipher the menu so we were frantically using Google translate under the table.  Good job we did as the restaurant had tripe, horse and other delights.  Still, we threw caution to wind, ordered lots of unknown dishes and had a great time.  The wine was measured by the litre, was cold and totally delicious.
Saturday – travel day, ghost town, no temp checks
The last day of a good holiday is always sad, and this was no exception.  After bidding farewell to Casa Serena and its owner Serena,  and doing a bit of last-minute olive tree hugging, we drove back to Bari airport and donned our masks for the flight home.