Sarah's 5 favourite dishes in Puglia
Posted on 18 June 2012 in Puglia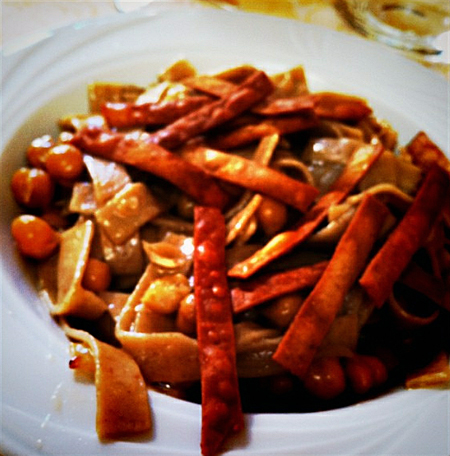 Ciceri e Tria by Paola Sucato.
Orecchiette alla Barese
Ear shaped pasta with delicious broccoli tops mixed with anchovies and a little cream.
Ciceri e Tria
A country dish consisting of chickpeas mixed with a semolina based home-made pasta which is deep fried before being added to the chickpeas.
Agnello al Vino
Tasty baby lamb simmered very slowly in red wine and seasoned with rosemary. Potatoes and broccoli tops may be added towards the end of the cooking process.
Orata alla Pugliese
Freshly caught bream covered in thinly sliced potatoes that have been tossed in olive oil, parsley and chopped garlic, topped with grated parmigiano cheese and baked.
Calzoncelli
Small sock-shaped pastries stuffed with grape jelly or orange marmalade, toasted almonds and covered with cooked wine.