Room with a view
Posted on 14 November 2008 in Tuscany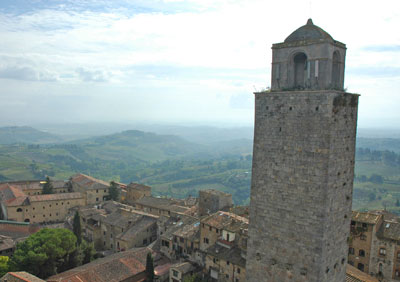 Ian writes: during a recent trip to Tuscany I was very excited to receive an invitation to San Gimignano to meet a couple who own a tower. Unsure of what to expect I followed  the couple through the narrow streets to their tower. Entry was up a flight of stairs that led to a simple one-bedroom apartment, nice location but nothing too special
I was then led up a second narrow flight of stairs to start our ascent up the tower. The tower was refurbished several years ago and must have been a pretty amazing building project. It feels modern and fresh and the views from the tower are truly spectacular. 
It's not for anyone who suffers vertigo or is concerned about being in small spaces. However, it's a wonderfully quirky apartment for anyone wanting to spend a few nights in this beautiful medieval town and feel like a true local. You can't help but feel a little smug on your roof terrace with a glass of wine looking at all the tourists paying to walk up the adjacent tower. You can find more details of La Torre here.
Please speak to Helen if you'd like to discuss this property or any others on our website.
Update June 2010: sadly La Torre is no longer on our books. However, you can always browse more apartments in Tuscany here.