Residents of Umbria prepare to celebrate Corsa dei Ceri
Posted on 12 May 2015 in Italy, Umbria
Every year, the date of May 15th brings an event of tradition, community and joy to the town of Gubbio, Umbria, celebrated for almost 900 years. This event is known as the Corsa dei Ceri (the Race of the Candles), and is without a doubt one of the biggest annual events celebrated in Umbria.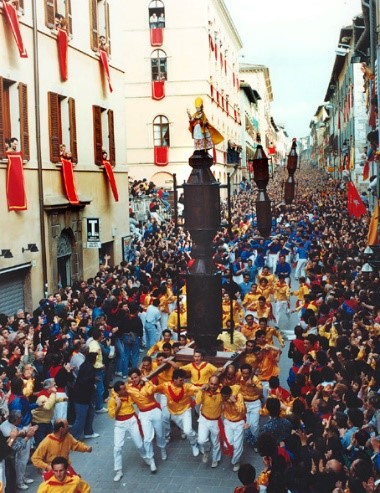 The 2015 edition looks to be no exception to the rule, with thousands once again expected to descend upon the streets of the town. May 15th is also known as St Ubaldo's Eve in Umbria, and the event in fact celebrates the bishop in his aid in defeating opposition in a war back in the 11th century.
The candles are made up of three extraordinary wooden structures measuring around 8m high, with each surmounted by a statue of a different celebrated saint: St Ubaldo, the patron saint of masons, St Giorgio, the patron saint of merchants, or St Anthony, the patron saint of farm workers.
Following a complex ceremony starting at the Basilica of St Ubaldo, the candles are led on a long procession through the streets of Gubbio. At 6pm, the extraordinary race begins, via the Dante descent to the Piazza della Signoria and up the slopes of Mount Ingino to return to the Basilica of St Ubaldo. Though the candles are carried at great speed, and the event is known as a race, the candle bearing the St Ubaldo statue is always carried into the church first, according to tradition. The winning team is in fact determined by the degree of skill demonstrated by the bearers through the race in carrying such a grand construction, debated upon by the townspeople of Gubbio who gather upon the streets to observe the spectacle.
If you'd like to visit event such as this and discover the charms of wonderful Umbria for yourself, visit our website for a great range of Umbria villa accommodation perfect for an unforgettable stay in Italy.