Puglia's Carnival of Putignano gets underway
Posted on 3 February 2015 in Italy, Puglia
The festivities have well and truly begun in Puglia (Apulia), where the centuries-old Carnival of Putignano has been taking place in Bari since January 31st.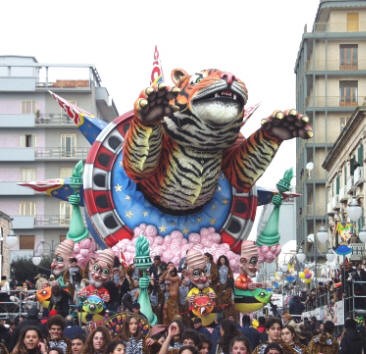 Following this year's theme of the seven deadly sins, the highlight of the Carnival will be the parades, with three taking place on the 8th, 15th and 17th of February. Seven floats will travel in a procession down the eponymous avenue of Putignano, exploding with colourful masks and costumes, vibrant papier-mache floats, and dances made to entertain the crowds, bringing the streets to life. The proceedings culminate with the evening parade on Mardi Gras, ending with the 'funeral' of the Carnival.
This carnival, situated in the heart of the Itria Valley, is the longest of them all, with its traditions dating back as far as 1394, making it one of the oldest in Europe. It originates from when the relics of St Stephen were brought to Putignano, with the peasants who worked there abandoning their work to follow the procession, with celebrations of song and dance taking place after the religious ceremony, cementing the town's role in both religious and cultural history.
To witness events such as this as well as Puglia's rich history and astounding beauty, book a relaxing stay in one of our hand-picked Puglia villas and explore one of Italy's most spectacular yet overlooked areas.
Image: Carnival Cities