Puglia – home to the unique trullo
Posted on 14 October 2015 in Italy, Puglia
When you arrive in Puglia, nothing will signal that you're there better than the sight of the characteristic trullo, typically found in the Murgia area in the southern part of the peninsula.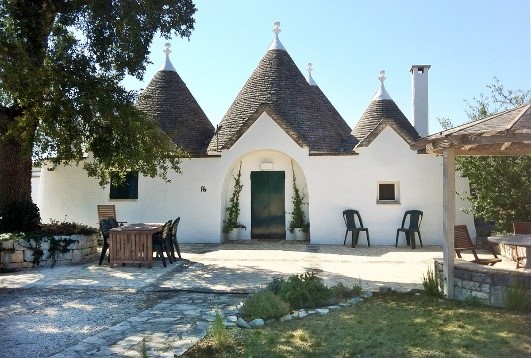 These iconic constructions with their unique conical shape have existed in Puglia for hundreds of years, with the oldest examples dating back as far as the 16th century. It is believed that they were initially built to act as temporary dry-stone accommodation, which could be dismantled whenever necessary – typically when the property tax collectors came to town. Upon the tax collectors' arrival, there would be barely any signs of civilisation, but as soon as they left, the trulli would swiftly be rebuilt until the next visit.
In order to make them easy to dismantle, trulli are not built with cement, though their thick white-painted walls ensured they stayed cool in the summer and stayed warm in the winter. Trulli also have a trademark shape – a cylindrical base, topped with a conical limestone-tiled roof. These roofs were often traditionally painted with a cross, astronomical symbol or an evil eye, finished with an ornamental flourish.
Interestingly, examples of trulli also exist in the Rhineland in Germany, where migrant workers from Puglia worked in the vineyards, creating a home from home.
So culturally and historically significant are the trulli now that they are recognised as one of Puglia's two UNESCO World Heritage Sites. They exist now as homes lived in by locals and as holiday accommodation perfect for authentic Italian holidays, with Essential Italy offering a range of quality trullo accommodation in some of the most gorgeous locations in Puglia: https://www.essentialitaly.co.uk/puglia-villas/all.