The perfect panettone recipe for Christmas
Posted on 21 December 2016 in Italy
A classic Christmas treat found on every table in the festive season in Italy, the panettone is an absolute staple dish. Often eaten as a late night snack on Christmas Eve or for breakfast in the morning, spread with butter; we've got the perfect recipe for you so that you can recreate this Italian delight for yourself. If you are going to be spending the festive season in one of our luxury villas in Abruzzo, this is a must-have dish: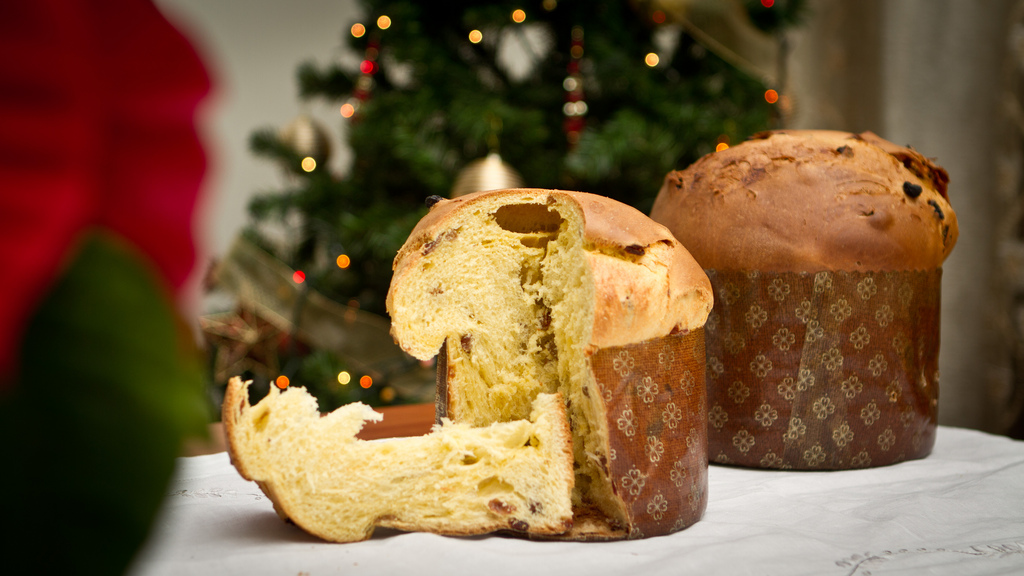 Ingredients:
4 tbsp. warm milk
2x 7g sachets of fast-action dried yeast
100g caster sugar
250g softened butter
5 eggs (lightly beaten)
2 tsp. vanilla extract
Grated zest of 1 lemon
Grated zest of 1 orange
500g strong white bread flour (a little extra for dusting)
Optional extras:
80g raisins
80g sultanas
100g candied orange and lemon peal
3 tbsp. dark rum
OR
250g dark chocolate chips
For the topping:
30g whole blanched almonds (roughly chopped)
1tbsp. caster sugar
1 tbsp. egg white
1 tbsp. icing sugar
Method:
To begin, grease your panettone tin generously (alternatively you can use a panettone case or deep cake tin, minimum 20cm).
Add the warmed milk and yeast into a bowl with 1 tsp. of sugar; leave this to infuse for a few minutes and for the yeast to kick into action. Whilst you wait, add the rest of the sugar into a separate bowl along with the butter and vanilla extract. This mixture should be beaten until it is light, fluffy and pale.
Next, add in the zest of both the orange and lemon, before adding in each egg, one at a time until the mixture all comes together. If you see your mixture begin to curdle at any point in this process, a spoon of flour added in and beaten should save the consistency.
In a separate bowl, pour the flour into the bowl, mix with a pinch of salt and make a well in the middle. You should then gently add the yeast and milk concoction, followed by the beaten butter and eggs. Begin by folding this mixture together with a spoon, and as soon as it starts to form a soft dough, put the spoon down and begin to knead. It'll be quite sticky at this stage, but don't worry it will come together soon.
After kneading the dough for about 5 minutes, turn it out onto a floured surface and knead for a further 10 minutes. The dough will transform into a soft, stretchy dough during this time.
Grease a large clean bowl and pop your dough inside, covering with either a plastic bag or cling film. This should be left in a warm area for around 2 hours, and in this time it should double in size.
While you are waiting for the dough to rise, you can get on with preparing the dried fruit (if you are choosing to add this in), place the fried fruits into a saucepan with the rum and warm this for around 5 minutes, this will allow the fruits to infuse and become very juicy. These then need to be set aside to cool while the dough rises.
After two hours have passed, you need to retrieve your dough and knead for a further 5 minutes. As you do so, add in either the dried fruits or chocolate chips to ensure that they are fully incorporated. Shape the dough and pop it into the tin, if you've opted to use a deep cake tin, line the edges with a double lined sheet of baking paper that rises around 5cm above the top of the tin, this will allow the dough to continue rising over the edges during baking.
Wrap the dough with cling film again and set aside in a warm area for another hour. This is the final rise.
Preheat your oven to 180C/Fan 160C/Gas 4 and get on with making the topping, this will ensure that the top crust is golden, crunchy and delightful!
For the topping, you'll need to mix in the almonds, sugar and egg white before generously brushing over the top of the dough.
The panettone will need 40-50 minutes in the oven and to be placed on a low shelf to allow it room to rise. If a skewer is inserted and comes out clean, this is a good indication that it is done. Cool the cake in the tin for around 10 minutes, then remove from the tin and leave it to cool on the side.
Cut the panettone into wedges to serve and enjoy either by itself or with a light layer of butter!