Selva win Siena's famous Palio event in its 2015 edition
Posted on 21 August 2015 in Italy, Tuscany
Crowds of thousands gathered this week to watch one of Tuscany's biggest events, the Palio di Siena, come to a close in its spectacular finale – a fast-paced bareback horse race.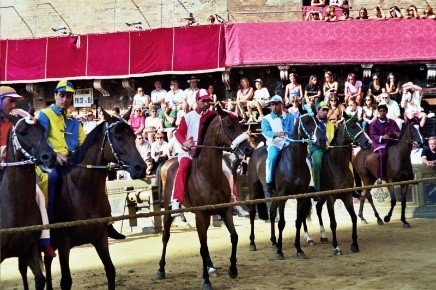 Taking place twice a year – once in July and once in August – the Palio di Siena is a competition between the city's 17 districts, or contrade, with the winning contrada taking away the grand prize of the drappellone, a painted canvas with a different design each year, to be displayed in their local museum.
Just 10 of these contrade get to take part in each race, however, which takes place in the city's Piazza del Campo, a dirt and sawdust track surrounded with cobbles and grandstands. This year, the Selva district were the winners, with jockey Giovanni Atzeni and his horse Polonski racing to victory in the short three-lap race of the piazza.
The Palio di Siena was first held as a civic celebration back in 1482, and since 1701, it has been held twice a year every year, making it one of the oldest annual bareback horse races in the world.
If you'd like to immerse yourself in the rich historical and cultural traditions of Italy, head to our website to see our fantastic selection of villas to rent across the country.
Image: Matthias, available under Creative Commons