Palio dei Terzieri returns to Umbria for traditional celebrations
Posted on 1 August 2015 in Italy, Umbria
Every year, the picturesque little village of Città della Pieve hosts an interesting and historical cultural event known as the Palio dei Terzieri, or simply the Terzieri for short.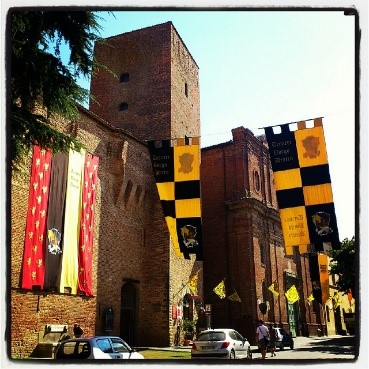 This year it will be taking place from August 12-23, repeating the tradition that has been played out in the streets of this town since the 15th century. Tourists and locals alike flock to the town to take part in the town's indulgence in the culture and traditions of the Middle Ages and the Umbrian Renaissance. The streets come alive with music and dancing, and are transformed into how they would have appeared in medieval times.
Previously associated with a famous bull hunt, today the main event is the Caccia del Toro, where skilled archers fire their arrows at targets which resemble bulls – a hark back to the old traditions. The competition takes place in three stages, with the victor winning a fabric painting symbolising the Terziere (the three districts in and around Città dei Pieve).
Visitors can also enjoy a number of other events and entertainment, from plays, medieval parades and music to the Taverne of the Terzieri, a celebration of Umbrian-Tuscan cuisine. If you're planning on visiting the Palio dei Terzieri and everything else that beautiful Umbria has to offer, visit our website to browse all of our Umbria villas for rent.
Image: Matteo Patrachi, available under Creative Commons