Our family holiday in Sardinia
Posted on 4 October 2010 in Sardinia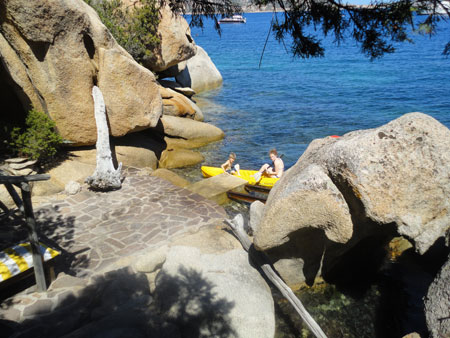 Helen writes: we succeeded in doing very little for the whole of our week long holiday in Porto Rafael, Sardinia. The children however snorkelled, swam, kayaked, made sandcastles and generally turned into water babes for the week. The 'teenagers' managed to stay up all night – almost every night – sleeping for much of the day and getting up just in time to have a very late lunch and a little swimming before starting another night of doing exactly what everyone else had done during day light hours.
We also managed to leave the comfort of our villas to embark on a day at Aqua Dream in Baia Sardinia. To be honest, I was lacking in enthusiasm for this day out. However, I'm almost a convert after trying the slides, flumes and other water games, which had us all laughing – with the exception of my good friend Sam who managed to completely traumatise herself on the largest, steepest water slide I've ever seen. As I pointed out to her, it's good to leave your comfort zone from time to time. I should also add she spent the rest of the day under a tree handing out encouragement to all who would listen to 'give it a go'.
We are always a large party and we decided to split up this year as there was no one house large enough to cater for us. My family took Villa Rafael – a lovely three bedroom house on the beach in Porto Rafael with three fabulous terraces. Sam and family took Casa Wasa along with Ian and his boys. Casa Wasa has, in my opinion, the best position in the bay and was the very first house to be built in the village. It has a very large outside space along with a private jetty and kayaks, and it quickly became 'base camp' from where all meals were eaten. After day one we decide the 'teenagers' needed a space of their own and moved them into a small house close to Wasa. This was deemed a Good Thing™.
Big thanks to Yvonne, Malcolm and Bella for adding to the party for one night and also lending us Bella to play with Imi and Ollie. Apologies once again for Ian's shoes and his desire to ply you with Limoncello di Crème which upon reflection had been out of the fridge for too long. Biggest thanks of all go to Sarah who looked after us all fantastically and never grumbled that, while I was playing on the beach she was working flat out looking after all our clients in the area. The downside for me is that I have to come home to my desk and she gets to stay in this very beautiful part of Italy for the rest of the year long after all the tourists have left.