Mini-break in Puglia
Posted on 13 October 2009 in Puglia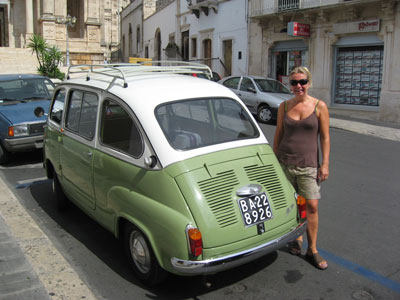 Siri had her eye on this rather lovely Fiat 'Seicento' Multipla.
Helen writes: I've just spent a lovely weekend at Borgo San Marco with two girl friends. Taking Friday off work, we took an early flight with Ryanair from Stansted and were poolside by midday.
Neither Siri nor Sam had been to Puglia before, and like most first time visitors to the region they were keen to visit a Trullo (the stone buildings typical of the Itria Valley in Puglia). The town of Alberobello fits the bill perfectly having been made a UNESCO World Heritage site in 1996; even if there's a rash of souvenir shops, it certainly gives a lovely insight into Trulli and the surrounding countryside.
Highlights
Doing nothing of course. Well that and catching up over a few glasses of wine over dinner at Borgo San Marco. We also had a wonderful fish supper in Savelletri (Mavy – what's its name? I'd love to give it a plug)…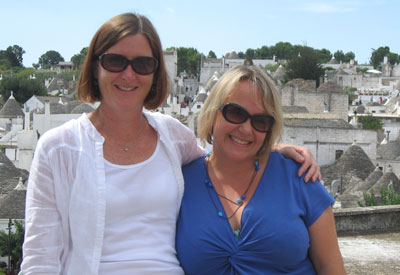 And of course we took full advantage of the spa at the Borgo San Marco and were thoroughly looked after by all the wonderful staff. From my friends reaction, I think we'll be back next year.
And it turns out that the cost of two nights in Puglia was much cheaper than the equivalent in Kent or Suffolk (our destinations for previous girly weekends), even with flights included. So for all the criticism thrown in the direction of Ryanair, our mini-break was quite a bargain.
For other properties in the Fasano region, see the Puglia section of our website.