Join one of the biggest carnivals in Italy at the Carnevale di Viareggio
Posted on 2 February 2016 in Italy, Tuscany
Overlooking the northern Tuscan coast is the beautiful seaside resort of Viareggio, close to several of our villas in Tuscany and home to one of Italy's most important and exciting carnivals. Taking place throughout February and March, the festivities get underway this year from February 7, ending with the Shrove Tuesday celebrations.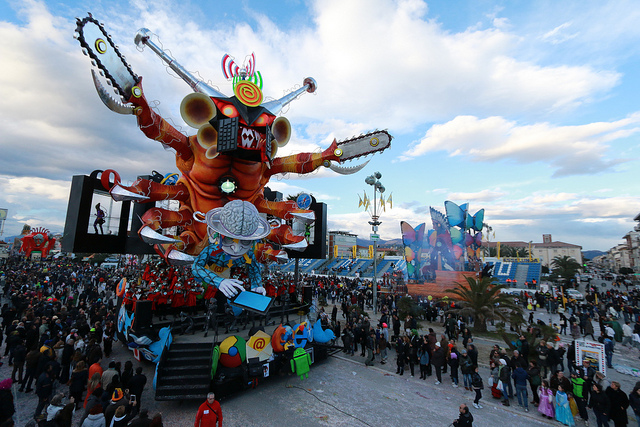 Carnivals are an Italian tradition and mark the period of feasting and fun which takes place just before the 40 days of abstinence beginning with Lent. Many Italian towns and cities host carnivals at this time of year, though the Carnival of Viareggio, alongside the Venice Carnival, is recognised as one of the best in Italy.
On five dates across the period, the highlight of the carnival will take place – parades of floats known as corsi mascherati proceeding along the promenade. These floats can take up to an entire year to make, and are often made by local artists from papier-mache. Upon visiting the carnival for the first time, many are surprised to see that some of these floats are taller than even the buildings, with their designs elaborate, complex, and often having a humorous twist. People inside the float also operate the mechanisms, bringing the floats to life by moving the head and raising the arms and legs. The floats are accompanied by other smaller displays, as well as local marching brass bands.
Alongside the main parades, there is also a host of other forms of entertainment taking place throughout the event. The various areas and neighbourhoods all throw their own local street parties, known as le feste rionali, where people don colourful masks and fancy dress, while there are also several other events to get involved with including theatre, photo exhibitions and sporting events, including the popular Viareggio Cup and Torneo Coppa Carnevale di Rugby. The entertainment is all housed in its very own Carnival Villas, covering an area of 750 square metres. Much of the area is lined with street stalls, where you can pick up one of the delicious sweet local delicacies, croccanti or torroni, from one of the stands.
The Carnevale di Viareggio will come to a close after the fifth parade on Saturday 5 March, where the best floats will be acknowledged in the awards ceremony and everyone enjoys a spectacular fireworks display on the beach.
Image: Visit Tuscany, available under Creative Commons