Italy brings home the title for world's longest pizza
Posted on 18 June 2015 in Italy
Italian pizza makers have brought home the title for the world's longest pizza back to its true home, having created a pizza over a kilometre long and smashing a record previously set by Spain.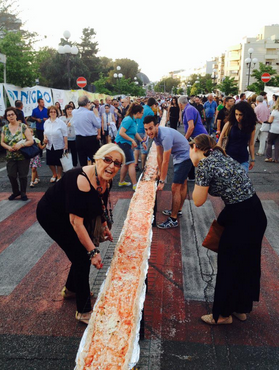 In the Calabrian town of Rende, pizza chefs toiled for over 16 hours to create the masterpiece, which measures 1,229m long. The process used to cook the pizza was long and arduous, and involved using a special oven with a roller inside. As the first part of the pizza baked, it was pulled out to rest on a table, while more of the pizza was being pulled through the oven.
A panel of special judges verified the length of the pizza and watched over the chefs as they worked, with the end result stretching through the streets from Piazza San Carlo Borromeo to Piazza Matteotti. It is estimated that around 60,000 people were involved during the day, whether they were watching, helping to create the pizza, or simply tucking into a slice!
Though the term 'pizza' was first recorded in a Latin manuscript from Lazio in the 10th century, the modern pizza as we know it was invented in Naples. The story behind the world-famous Margherita pizza is that one of Naples' best chefs was asked by Queen Margherita of Savoy to create a dish for the people, with the result combining green basil, white mozzarella and red tomatoes, matching the colours of a recently unified Italy.
If you're thinking of visiting Italy and sampling its world-famous cuisine, head to our website for a great selection of Puglia, Abruzzo, Sicily, Sardinia, Tuscany and Umbria holiday villas.
Image: Gaetano Fabiano