6 reasons why you should visit Italy this Autumn
Posted on 4 October 2016 in Italy
Many people decide that Summer is the best time to take their Italian holidays, but there are many wonderful reasons to visit the country in Autumn.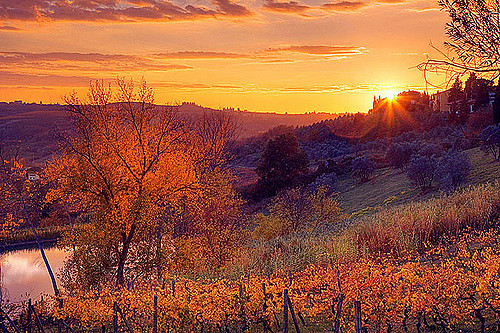 Views
The beautiful auburn hues of Autumn make for a breath taking views across Italy's vineyards and can be the perfect place to create incredible holiday pictures. The perfect pictures can be captured when the sun rises or sets against the landscape.
Privacy
Italy is a popular place to visit in Summer meaning that popular visiting spots and attractions can be busy with tourists. If you prefer to explore a new place when it's quieter why not visit Italy in Autumn? You will get to see authentic Italy at this time of the year as Italians come back to the cities after the Summer peak and re-open the local businesses and eateries that were closed during the busy season.
Beaches also become a perfect place to visit in Autumn, with tourists going home after Summer, you may even get a 'private' beach all to yourselves.
Food Festivals
For many countries Autumn is known for harvesting. Italy comes alive during this time with numerous food festivals that celebrate local dishes. Explore little Italian towns as you visit a local sagra (food festival) and sample the truffles, pastas, figs, mushrooms and chestnuts on offer. With sagre celebrating all types of food this could be the perfect time to travel around Italy.
If you can't make it to a festival don't worry, the local markets are fully stocked with fresh vegetables and the aroma of roasted chestnuts, making it a paradise for food lovers.
Wine season
As well as the food festivals happening in August many Italian towns and villages are host to grape festivals known as Sagra dell'uva, where you can savour world-class Italian wines. Visit the many vineyards around Italy to experience the grape harvesting. If you enjoy this you could also watch the olive harvesting that takes place in Autumn.
Weather
The weather in Summer can sometimes be too hot for some, if you struggle with the sun it may be best to visit Italy in Autumn. Autumn is still sunny in Italy meaning you can take excursions without feeling exhausted from the heat.
Culture
If you love the theatre you should visit Italy in Autumn. The theatres around Italy are generally closed during the Summer months but re-open in Autumn. There are several events around the country to visit for culture lovers, with film, opera and jazz festivals some of the key events to go to.
Image Credit: Chase Lindberg, Flickr. Available under Creative Commons.