Italian food markets
Posted on 21 May 2009 in Uncategorized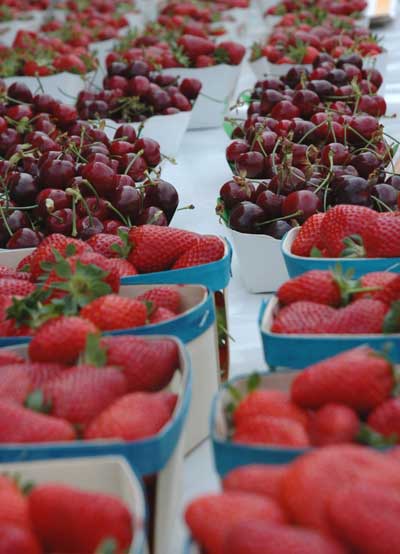 Ian says: the markets in Tuscany are now full of asparagus and other early summer delights. Whilst in Montepulciano recently, I couldn't resist filling my bag with a few heads as well punnets of strawberries and cherries.
My favourite way to eat the asparagus is simply to boil them and then drizzle with olive oil (Tuscan of course) and then top off with parmesan cheese. Simply delicious.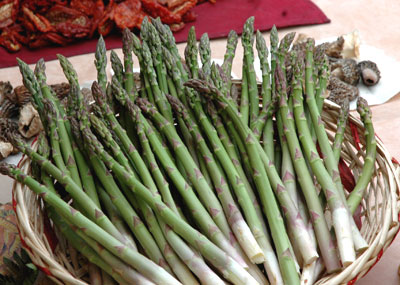 And then there's another favourite, Asparagus Risotto:

• Asparagus (obviously)

• Few shallots and/or onions (chopped finely)

• Risotto rice

• Big knob of butter and decent Olive oil

• Two glass of dry white wine (drink one whilst cooking)

• Freshly grated Parmesan cheese

• Salt and pepper

• Chicken stock and/or water from cooking aspargus
Blanch the asparagus tips in boiling water and set aside. Cook the stalks in the same water until they go soft.
Melt the butter and Olive oil and fry the shallots/onion until they turns soft and start to brown.
Add the rice to the pan and let it begin to absorb the buttery oily loveliness, before adding a glass of wine. Take in the the heady vapours as the alcohol is burned off. Then add a ladle of stock. Keep stirring until it is absorbed.
Keep adding the stock, one ladle at a time, making certain not to drown the rice, until the rice is al dente, which should take 15–20 minutes. Then throw in your parmesan cheese and add another knob of butter and the asparagus. Bon appetito.