How to have the best shopping experience in Tuscany
Posted on 31 March 2016 in Tuscany
If you're heading to Italy on the lookout for memorable gifts and authentic souvenirs, Tuscany is definitely the right place to go. Those who come to our Tuscan villas year after year know that this region is filled with excellent producers, artisans and craftsmen, if you're prepared to look beyond the usual tourist sites. Here are our top tips on to how to enjoy the best shopping experience during your time in Tuscany.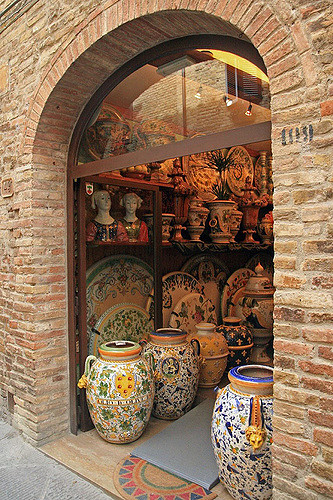 Stick mostly to the larger towns and villages
You'll be mistaken if you think only heading to the tiniest villages and hamlets will find you the best artisans – in fact you may find yourself too far off the grid, in a place too small for any shops whatsoever. While some producers can be found at estates throughout the countryside, many of the best arts and crafts products can be found in the more popular towns. The more popular the place, the more likely you are to find a diverse range of shops and items.
Pay attention to shop opening hours
Many of the shops in the smaller towns in Tuscany shut down completely for a long lunch, typically between 1 and 3pm though it sometimes can be as late as 4pm. To avoid disappointment, either hit the hill towns in the morning or instead in the late afternoon.
Buy directly from the source where you can
While many artisans and craftsmen base themselves in the towns, cheesemakers and wine producers, for instance, often sell directly from their farm or vineyard in the heart of the countryside. Not only will you know that you are getting the real deal, but you'll also have a lot more fun getting involved in the local culture and learning all about how the product is made.
Look for certain souvenirs
Like in every Italian region, Tuscany specialises in some products over others. Things to look out for include leather goods such as handbags and purses made in classic designs, housewares made from ceramics or olive wood, hand-woven cotton scarves, paintings and jewellery.
Image: lensmate, available under Creative Commons