Holiday accommodation in Puglia
Posted on 2 October 2009 in Puglia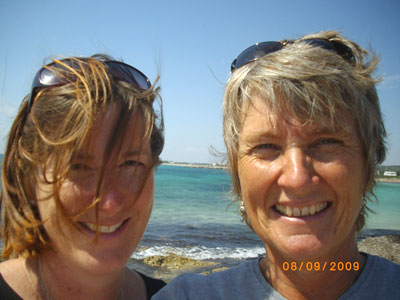 Sarah writes: our annual trip to Puglia was once again a busy and fun-filled time. Helen and I really look forward to the annual renewing of contracts and hunting down new holiday accommodation in this fantastic region – meeting up with lovely people, viewing great accommodation and sampling the local food and wine: the long working days must have some compensations right?
We travelled in the second week of September and it was still lovely and sunny. I flew into Bari airport courtesy of Ryanair and was met by Helen who had already had a couple of nights with some friends in the lovely Borgo San Marco. We stayed for our first two nights at Masseria Guarini (I'd forgotten how spacious this group of four apartments really is), but sadly we did not get time to use the pool here. Lots of driving down bumpy tracks was next on the agenda (and getting quite lost at times) but well worth the effort: Trullo Capitolo, Trullo Lontano and Cattivodda are all welcome additions to our website.
On the third day we drove down to the very southern tip of Puglia, stopping at Li Foggi – a small group of apartments with chic decor and contemporary design, enjoying the great pleasure of staying at Masseria Don Cirillo. This was a wonderful location just south of Gallipoli on the Ionian coastline with super accommodation, perfect for a romantic break or anyone wishing for a fabulous stop-over if touring the region.
On from Don Cirillo, our rather dusty, map-filled Fiat Punto (courtesy of Maggiore) took us to Lecce, a city that merits a visit should you be in the area and often referred to as the 'Florence' of Puglia. Parking easily just outside the impressive walls, we walked the short distance to Suite 68, a B&B of very high quality. With the whole city on our doorstep, we managed to wander around many of the sites, browse some of the chic shops and sample some extraordinarily good white wine before settling down to some tasty local fare in a trattoria; recommended and kindly booked for us by Suite 68.
Our last day included a very quick swim in the wonderful turquoise water by the caves of Zinzulusa; definitely worth a visit for any guests staying at Masseria Camille or Hotel Relais Valle dell'Idro. In all a very productive trip, and we're sure our guests will enjoy our selection of properties in Puglia, both old and new finds.