"Greek Pompeii" unearthed in Sicily
Posted on 24 November 2015 in Italy, Sicily
After 15 years of work on one of the largest archaeological sites in Europe, researchers from the University of Bonn have unearthed 2,500 houses at a site in Sicily, forming the ancient city of Selinunte, a place frozen in time.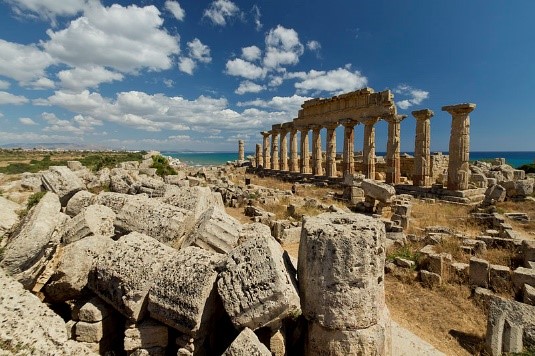 According to Professor Martin Bentz, Selinunte is "the only classical Greek city where the entire metropolis is still preserved", meaning it can help to provide some crucial insights into the life of the Ancient Greeks.
The incredibly well-preserved ruins demonstrate that a street grid system, still used by town planners today, was developed, as well as specific industrial zones – one district, for instance, was dedicated to pottery manufacturing. The potters are believed to have made around 300,000 ceramic artefacts a year. Paint pigments, pottery-making equipment and 80 intact kilns have also been unearthed, documenting the town's prominence in pottery-making.
In the next stage of their excavation, the archaeologists plan to investigate further the city's manmade harbour. By using geophysical surveying techniques, they hope to detect the foundations of warehouses which were once used at the port over 2500 years ago.
Selinunte was first occupied by Ancient Greek colonists in around 650BC, and with its idyllic location overlooking the sea on the far western edge of the Greek empire, soon became a prosperous trading port, reaching a population of 30,000 at its peak. In 409BC, however, the city was occupied by Carthaginian troops from modern-day Tunisia, who killed over 16,000 of the residents and enslaved another 5,000. Though Carthage had seized Selinunte, they failed to repopulate the city – though nature was what brought the city to an end for good. Earthquakes devastated the city, causing its enormous Greek temples to fall to the ground and a large remainder of the city to be buried in sand, dust and dirt.
The archaeologists have also found signs of the people who still lived there at the time of the earthquake, caught mid-activity and fleeing for their lives. Among the items discovered were half-eaten remains of food, discarded as the residents tried to escape the destruction around them, and dozens of unfired pots and tiles ready to be put in the kiln, abandoned by workers.
If you'd like to discover the ancient civilisations unearthed in Italy for yourself, visit our website to view our range of luxury accommodation, which include Sardinia, Sicily and Tuscany villa rentals.
Image: Franck Manogil, available under Creative Commons