Gino D'Acampo's Italian Escape show shares the best Italian recipes
Posted on 7 November 2016 in Italy, Umbria
Gino D'Acampo has been treating us all to the delicacies Italy has to offer in his TV series 'Gino's Italian Escape' on Monday evenings, at 8pm, on ITV 1. If you're yet to witness the mouth-watering offerings, against stunning Italian backdrops, Gino has been serving up on the show you can catch up on ITV hub.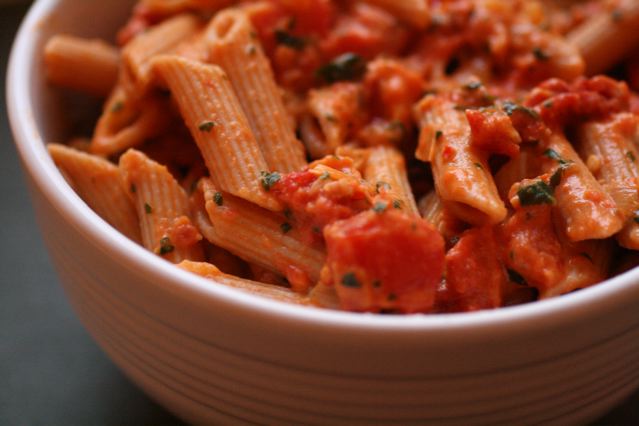 One recipe we can't get enough of is the pasta shells with guanciale, potatoes and juicy tomatoes: a classic dish of Umbria, that you can try at local restaurants while staying at any of our luxury hotels Umbria this winter. Or why not try this recipe at your villa accommodation, to try some authentic Italian cooking? It is a great dish if you're looking for comfort food that the whole family will love.
Pasta is a staple in Italian cuisine and you will find a multitude of fabulous pasta based dishes during your stay in Italy.  Forget anything you've tried elsewhere – the Italians really know their pasta and you will be blown away by the flavours and tastes they can offer you!
The dish consists of guanciale, which is pig's cheek that has been lightly seasoned with salt, black pepper, sugar and thyme. This meat is then cured for up to three months so the flavours can mature. Guanciale is considered an Italian delicacy in most of central Italy, especially Umbria, and this meat is a main ingredient in many Roman pasta sauces. If you're unable to locate any guanciale, or the kids are a little fussier, then pancetta or bacon can make great substitutes that will give your dish a milder taste.
Ingredients you'll need:
6 tablespoons of extra virgin olive oil
1 large red onion, that's been peeled and finely chopped
250g of guanciale, pancetta or bacon, that's been cut into cubes
1 large carrot, also into cut into cubes.
400g of floury potatoes, peeled and cut into 2cm cubes.
1.8 l of vegetable stock
400g tin of chopped tomatoes
300g dried pasta shells, ideally conchigliette
80g of fresh Parmesan cheese
Salt and Pepper for seasoning.
To make this dish you will firstly have to get the oil up to a medium heat, ideally in a large saucepan. Throw in your chopped onions and meat base and allow these to fry for around 5 minutes, stirring as needs be. Next add in the carrot and potatoes and let this all fry for a further 2 minutes.
Next add the stock in and let this boil over a higher heat. Reduce the heat once boiled and let this simmer gently for around 25 minutes with no cover. The gorgeous aroma will soon fill the kitchen. Add in the tinned tomatoes and then season the sauce with a light dashing of salt and pepper.
Add the pasta. Have the saucepan over a low heat for around 8 minutes, stirring on occasion. Turn off the heat, mix the Parmesan into the mixture and then serve immediately for a delicious dish.
A few other recipes that were shown in the show can be accessed on the ITV website, or alternatively you can treat yourself to his cook book 'Gino's Hidden Italy' to get access to all the Italian recipes your heart could desire!
Image Credit: thebittenword.com, Flickr. Available under Creative Commons.