Experiencing an authentic sagra in Italy
Posted on 22 October 2015 in Italy
If you're visiting Italy and plan to get the most out of your travels, seeing the real Italy, then experiencing a classic Italian sagra is definitely the way to go. The sagra is a popular local event held in towns throughout Italy, where the community come together to celebrate one aspect of their local cuisine and a delicious plate of home-cooked food.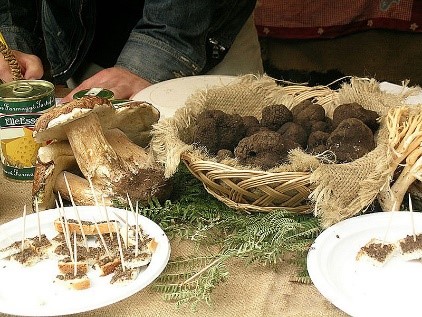 Anyone and everyone is invited to a sagra, whether you're local or not, and give visitors to the region a chance to experience the true atmosphere of the area. The event may also come with music, dancing, and a market selling local wares.
If you don't know what sagras are taking place before you arrive in a town or village, you'll find them advertised everywhere – on buildings, at bus stops and on signs – giving all the details you'll need to turn up and enjoy the food. Sagras are held celebrating foods of all kinds, from pasta to vegetables and fish, depending on the region.
Upon arriving at a sagra, you'll be able to choose your food from an a la carte menu, with each dish being a variation on the theme of the highlighted ingredient. You'll then order, take a ticket and take a seat at a table where the wine will be flowing and you'll be able to meet people from all walks of life. Although it may seem unapproachable at first, once you make the first step to getting involved in a sagra, you'll soon be caught up in the enthusiasm of the occasion and all of its participants and start enjoying Tuscany like a local.
For a truly authentic getaway in some stunning countryside and coastal locations across Italy, visit our website to book a stay in one of our hotels, apartments or villas with pools today.
Image: Fiore S Barbato, available under Creative Commons