Eight unmissable towns to visit in Puglia
Posted on 4 February 2016 in Uncategorized
The heel of Italy's boot, Puglia, is often overlooked by tourists, though it is a fascinating part of Italy, lined with beautiful beaches. What will really draw you in, however, is its abundance of small and pretty towns, each with breathtaking architecture, ranging from grand baroque churches to the famous whitewashed conical trulli.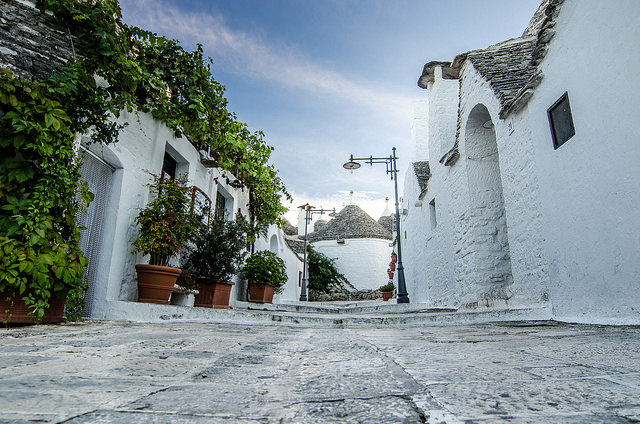 Below are just eight towns we recommend you visit on your holidays to Puglia, though there are of course several more you may discover on the way!
Bari
Surrounded by walls and jutting out to sea, the town of Bari is one of Puglia's biggest, with most of its charm lying in the old town, where life is lived out on the streets. From morning until night you'll find the townspeople out chatting, playing or even napping. Women also set to work out on the streets making the famous Pugliese delicacy of orecchiette, a local variety of pasta. Navigating the winding streets of the old town can be tricky, however, all you'll need to do is look down – the black stone pavement will show you how to find your way out, while the white limestone paving will take you further into the maze.
Alberobello
Alberobello is highly popular with tourists who visit the area, but don't let that stop you – you'll find yourself truly enchanted by the 1500 trulli which populate this town. Recognised as a UNESCO World Heritage Site, you'll find that one side is full of purely souvenir shop trulli, but head across the road to Aia Piccola and you'll find real homes and avoid the crowds.
Locorotondo
A labyrinth of white-washed buildings, the town of Locorotondo is small and quiet, perfect for strolling through the wonderfully-kept streets and enjoying a leisurely lunch at one of the cafes or trattorias. As you walk through the streets you'll marvel at just how pristine they are, each balcony and window lovingly decorated with brightly-coloured flowers.
Ostuni
Located just 8km from the Adriatic Sea, Ostuni is perfect if you're looking to couple a town visit with some time on the coast. A maze-like white city perched upon a hilltop, here you can well and truly lose yourself wandering through the narrow alleyways, browsing the fruit and vegetable stalls at the market and climbing staircases before looking out over the town from above.
Lecce
Lecce is one of Puglia's larger cities and an atmosphere which manages to be both lively and relaxed. It is perhaps best known for its exuberant baroque architecture, seen especially in the churches, which are lavishly decorated with cherubs, gargoyles, griffins and delicately carved columns. Even by night, the streets are still alive, with people drinking in cafes, eating gelato or crepes, or simply going out for a stroll.
Otranto
Situated in a stunning coastal location, you can not only take in the spectacular buildings of Otranto but also enjoy a dip in its impossibly turquoise sea. Due to its prime position just 72km from Albania, Otranto has been at the centre of several invasions, including the Turkish invasion of 1480, with the town's rich history still on show today. The cathedral is the town's principal attraction, featuring one of the largest mosaic floors in Europe, and is a damaged survivor of the invasions of the past.
Gallipolli
Filled with medieval architecture, Gallipolli is another stunning seaside town, where you can walk along the seafront walls and take in both town and coastline. The old town, found on an island connected to the mainland by a causeway, is the best area to visit, and you'll also be able to take a step into the past at Granafei Palace. The Palace is home to an original underground olive press, dating back to 1600, where donkeys worked the mill and workers grinded and pressed the olives in dark, miserable conditions.
Corigliano d'Otranto
One of the 11 towns which make up the Grecia Salentina, Corigliano d'Otranto boasts a rich Greek heritage retained from the Byzantine period. Its main attraction is perhaps the medieval castle built in 1465, which managed to resist the Turkish invasion. Since it was built it has been fortified and decorated further, with four round towers and a moat built in the 17th century, and a rich family later transforming the castle into a palace, adding grand baroque details to the façade.
Other blogs you may like:
• Puglia – home to the unique trullo
• Five family days out in Puglia
Image: Michele Ursino, available under Creative Commons