Celebrate a Palermo tradition at the Feast of Santa Rosalia
Posted on 12 July 2016 in Sicily
In celebration of the Sicilian city's patron saint, the Feast of Santa Rosalia is held each year in the streets of Palermo, and will next be held on the 14th and 15th of July – a perfect event to visit if you're staying at one of our holiday villas.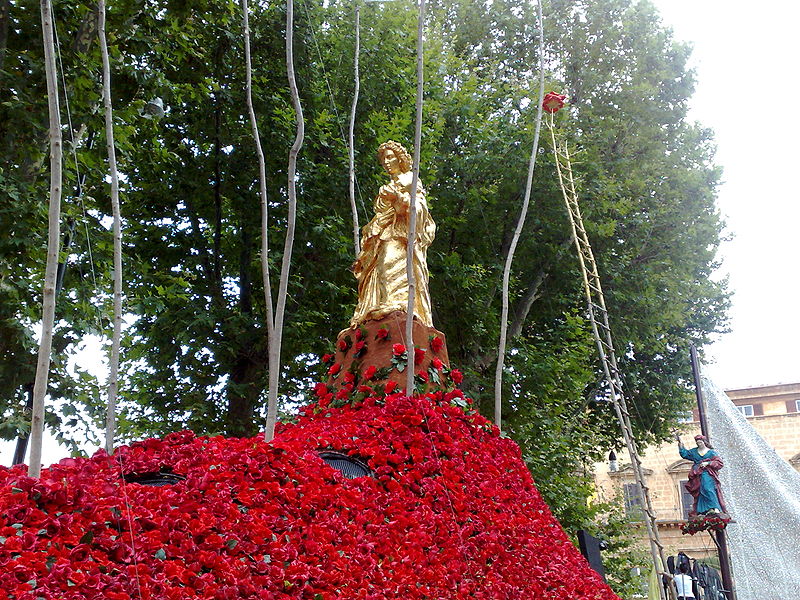 Santa Rosalia lived at the court of King Roger in the 12th century, living out the last of her 26 years as a hermit in a cave on Mount Pellegrino. However, her legend did not come about until the 17th century. In 1624, Palermo was hit by a fever epidemic, and it was said that she appeared in a hunter's dreams, telling him where to find her remains on Mount Pellegrino. Once they were brought back to the city, it is believed that she performed the miracle of getting rid of the city's epidemic, and she has been the patron saint ever since.
The mountain is today still a place of pilgrimage for those who worship her and the Christian faith, though the main celebration of her comes during the annual feast. Tens of thousands of people descend upon the streets every year to join in with what is one of Sicily's largest parties, and is known amongst the locals as "u fistinu" (Sicilian for "the feast").
The festivities begin on the evening of the 14th, when there is a huge procession of people in various traditional costumes, fronted by the Archbishop and Mayor of Palermo. At the centre of the procession is a magnificent chariot, which is different every year and carries the statue of Santa Rosalia. Pulled by oxen, the chariot is often elaborately decorated with roses, angels, cherubs and bright colours. Beginning at the Cathedral before making its way around the town to its finishing point at the Foro Italico, it stops at a number of places that reflect upon the city's previous pain, before the joyous finale of fireworks.
The 15th marks a much more sombre occasion, when relics of Santa Rosalia and her remains, carried in a silver urn, are taken through the city back to their home in the Cathedral. Here, they are blessed by the Archbishop of Palermo, while many people also attend many of the masses held at the churches that day in her honour.
Image: Dedda71, available under Creative Commons