Around Sicily in 80 hours
Posted on 17 June 2008 in Sicily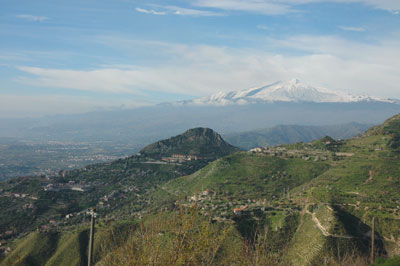 Ian writes: last month Helen and I took off on a whirl wind tour of Sicily; our purpose to check properties already on Essential Italy and to review some new properties.
We landed in Palermo and met up with our local friend Giovanni. He whisked us off up into the hills to visit Spadafora Virzi, deep in the rolling hills to the south west of Palermo. Primarily a vineyard, this property has charming apartments and spectacular views. Our favourite apartment was Pimpa. The pool was tempting but we cracked on towards Scopello.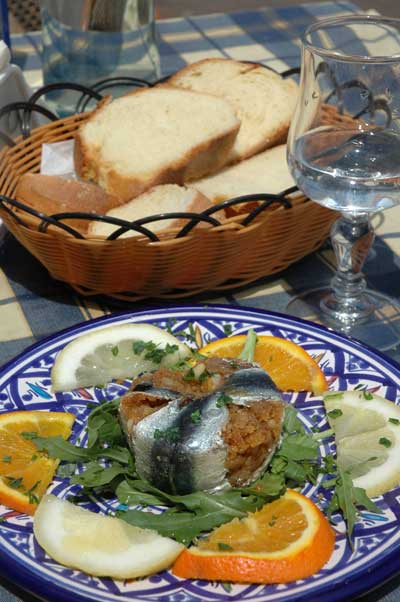 Famous for its Tuna fishing, the port of Scopello lies to the west of Palermo and the village proved to be one of our highlights, with its charming with bars and restaurants. Our first port of call was to visit a possible new property, however it was disappointing and not what we expected – sofa beds everywhere!
Somewhat down hearted we headed back towards the village passing several lovely looking houses. Spying a gardener (well what we thought was a gardener!) we pulled up and asked if he knew of any properties for rental. The next two hours was spent racing round a host of fantastic houses; Morena, Zingaro, Gabbiano and La Ginestra. All these houses belong to a property developer who has set his sights on the rental market and furnished these houses to a high standard and ticked all our boxes. Before leaving this area we popped up to Capo San Vito for a bite to eat, the huge sandy beach and blue sea made us almost feel on holiday.
Full of new found enthusiasm we set off for Marsala. Arriving late in the evening we sought out a bed. Asking around we entered Hotel Carmine, a recently restored 3 star hotel. Fantastic, great rooms, bathrooms and a breakfast to die for. All slap bang in the middle of this typical Sicilian town on the west coast of the island. The reception recommended a nearby restaurant called Trattoria Garibaldi. Initially they were somewhat hesitant as we arrived so late but the owners quickly warmed to us and we ate well and ended up being locked in and offered all sorts of liquers and wines.
Heading south towards Agrigento, we visited La Mandranova where Giuseppe and Silvia provided us with our best meal in Sicily – simple, fresh and full of flavour.
From here we drove to the slopes of Etna where we stayed at Scozilia with spectacular views towards Toarmina and the coast. We dined in a local pizzeria, very basic but highly entertaining – as we were invited to join a wedding anniversary party.
As is always the case on these trips we never have enough time to stop and enjoy the island but we left with only positive feelings and happy to have found some exceptional new properties. The highlight was the evening in a pretty run down pizzeria on the slopes of Etna sipping spumante with a Sicilian family – real Sicily and genuine hospitality.