Our successful trip to Puglia
Posted on 2 April 2013 in Uncategorized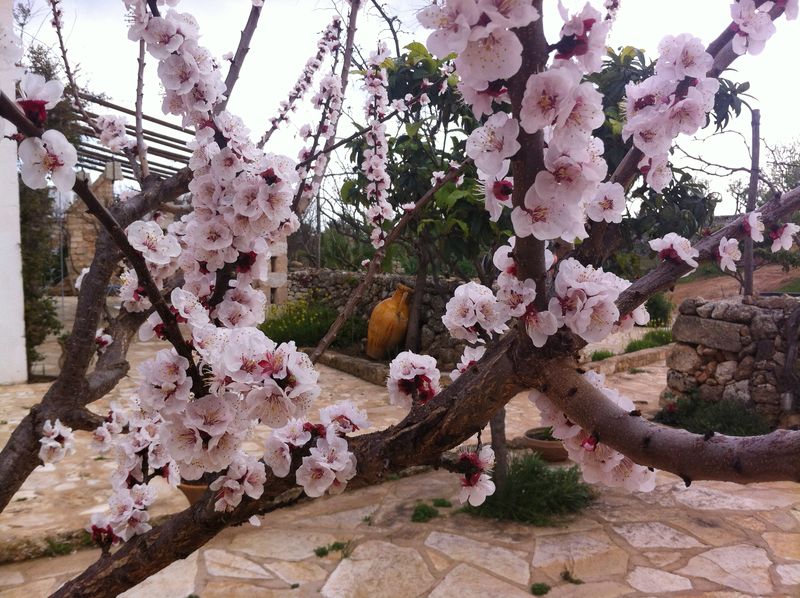 Blossom at Masseria Montenapoleone.
Sarah writes: Yes it is all in a days work!  Helen and I have just come back from  a trip to Puglia to search out some new properties to add to this glorious region's Portfolio.  Three days is usually ample but this time we were fighting against a rather bad bout of weather and strong winds on day one and so were slowed down somewhat on arrival in Bari. This did not dampen our spirits and we were immediately pleased to see that the airport is enlarging it's terminal – both Bari and Brindisi have modern and passenger-friendly terminals but bigger is better in this case and will make it even easier to negotiate.
Our first appointment on leaving Bari was in Santa Maria di Leuca – the most southerly tip of Puglia so had a drive of about 2 hours. We arrived in time to view our first property and then moved on to Masseria Gialli which will be super when finished in May, complete with its own observatory with star gazing telescope in a trullo with a hole in the roof! Watch this space.  The rain continued to our next venue, Masseria Saietti, where the wonderful hosts, Nicoló and Francesca had warmed up our lovely rooms, had a bottle of local Prosecco on ice and prepared the most delicious dinner which we shared with Marco and Antonella -  we are all  now are best friends.  The artichokes lightly fried in beer batter and the squid stew were absolutely delicious as were the orecchiette with broccoli – a truly magnificent spread.
Battered Artichokes at Masseria Saietti.
After a rather light breakfast of freshly squeezed orange juice and a small piece of homemade crostata filled with Francescsa's fig jam, we moved on to the Salento to see some villas and apartments – style in Puglia is always great and watch the website for some new and interesting properties. One of our "musts" when in Salento is to call in at Tulsi, for a touch of retail therapy – a beautiful little shop run by the lovely Deborah who has a wonderful selection of all sorts – we came out with 2 bags full of summer attire that we knew would be difficult to fit into our Ryan Air hand luggage but hey, where there's a will there's a way (and Helen looked great in her coat, jacket, scarf and shawl at check-in…).
Lecce was next on our schedule – a visit to Palazzo Gorgoni was a must, to say hello to the super owner and refresh our memories of this glorious city.  It is the perfect place for a weekend as there is much to see and some really great restaurants to sample.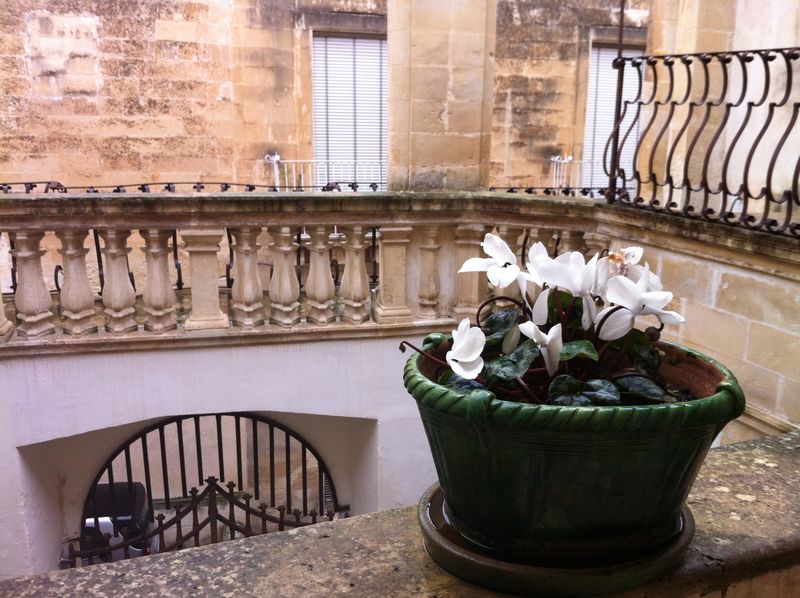 Cyclamen at Palazzo Gorgoni.
From Lecce we headed up to the Valle d'Itria where we saw a couple of fantastic masserias, fantasised about which one we would buy when we win the lottery, and ended up in the beautiful White City of Ostuni where we were staying at B&B Casa d'Autore. What a find… the very unassuming wooden gate on the street gave no indication to the stunning interior we found inside. Four elegant and comfortable rooms, a walled garden and a great breakfast – all with the town on the doorstep. We climbed the steep hill up to the cathedral later in the evening and enjoyed dinner in a local restaurant with some truly great wine – the walk down was a piece of cake.
The next day the sun was shining – hurrah! A lot of driving amidst olive groves, green, green fields and low stone walls took us from Ostuni to Martina Franca to Cisternino to Ceglie Messapica looking at some great trullos and some not so great ones – most renovations have been done beautifully in Puglia but there are one or two that have not quite got the touch. A small detour took us out to the coast to Torre Canne for a brief visit to meet the new manageress, Annabella, at Canne Bianche Beach Hotel and to refresh our memory (as if we could forget!) of the super beach location. After many kilometres and enough trulli to confuse us totally, we finally arrived at our last stop in Pezzi di Greco and what a great choice for our last night in Puglia. Masseria Montenpoleone was the icing on the cake – a rustic and large masseria that is ecologicallly friendly and run by  Giuliano, the charming owner, who has overseen the renovations and used many of the original family collections to decorate the building giving a fantastic feel throughout and made us want to come home and see if we too could make lamps out of coffee pots.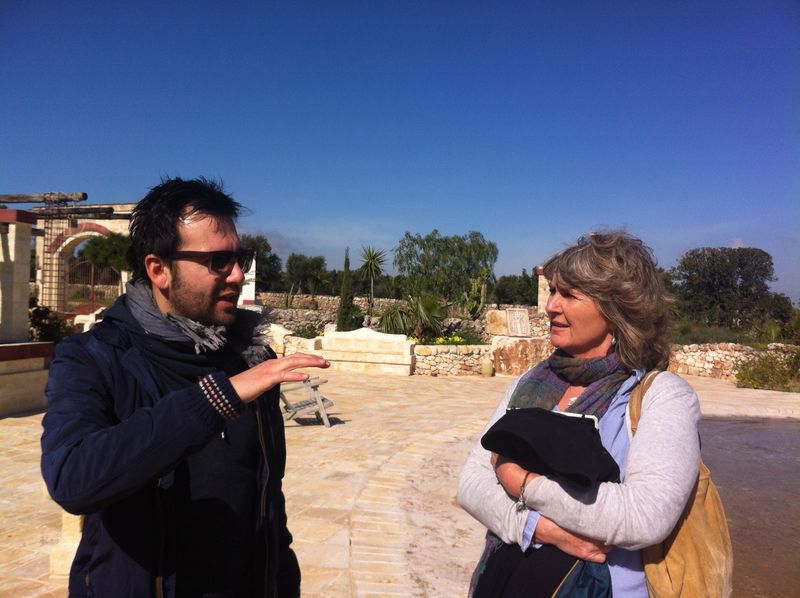 Sarah and Giuliano, the lovely, gentle and charming owner of Masseria Montenapoleone.
Dinner in Pezze di Greco was quiet and enjoyable until we were told that credit cards were not taken and so we had to do a quick run up the main street to the cash machine in order to pay the bill – mental note to always have a little cash in our pockets when in Puglia! After a fabulous nights sleep, some the Masserias Montenapoleone, some homemade bread and jam plus a small piece of chocolate cake for good measure, we were back on the road in the direction of Fasano and Monopoli to visit a couple of B&Bs before heading to Bari Airport for our flight home.  The temptation to go and sit on the beach for 20 minutes as we drove along the dual carriageway was huge but glad we didn't as we would have missed the plane for sure! Roll on September when we can do it all again!