An Italian New Year's tradition
Posted on 20 December 2022 in Food and Wine, Italy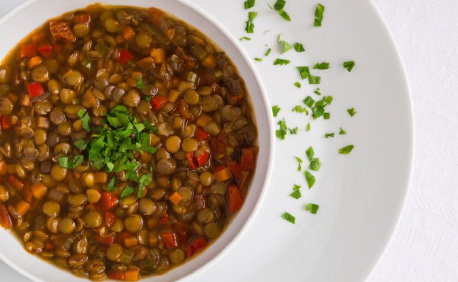 There are thousands of traditions, superstitions, and old wives' tales in Italy – impossible to follow them all. However, one that is religiously followed all over the country relates to eating lentils!
Just after the New Year has been welcomed in and the Prosecco has been opened, guests, revellers and partygoers will be handed a small number of delicious lentils often cooked with local sausage or cotechino. It's said that this tradition dates back to Roman times when a small pouch of lentils would be gifted to family and friends signifying good luck in abundance. The more you eat the better the effect so should you be so lucky as to see in the New Year in Italy, and however much you may have eaten before they arrive, make sure to partake in this age-old tradition so that you have a splendid 2023!
Should you not be in Italy but wish to get your fair share of luck and abundance, here is a typical recipe to enjoy any time after the strike of midnight:
Ingredients
300 g big lentils (red or green)
1 clove of garlic
1 bay leaf
1 small onion
1 tablespoon olive oil
2 tablespoons tomato passata
1 teaspoon curry powder (optional)
Salt and pepper
Preparation
Lightly boil the lentils in plenty of water with the bay leaf, garlic.
When just soft, drain the lentils and take out the bay leaf and garlic.
Finely chop the onion and in large pan, gently fry in the olive oil until soft and golden.
Add the lentils, tomato passata, curry powder, salt and pepper.
Over a low heat cook everything for about 10 minutes adding a small amount of water or red wine if it needs more liquid.
---
Feeling inspired? Click here to contact our travel experts and discuss your next trip to beautiful Italy, or call us now on 01223 460100