Accommodation in Southern Sardinia
Posted on 26 March 2009 in Sardinia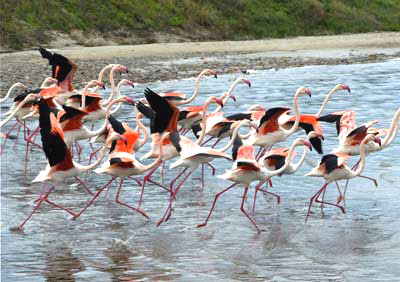 Helen writes: Sarah and I have just spent a few days in the south of Sardinia looking for new properties.
I arrived to wonderful warm sunshine – not always the case in March. Luckily it stayed with us for the full three days. It was hard to keep focused and not be distracted by the beautiful white sandy beaches that were completely deserted. To my delight there were flamingos arriving in flocks from North Africa.
All the hotels and apartments we visited gave us a very warm welcome and were teaming with armies of staff getting ready for the 2009 spring season. All with the exception of Nora Club Hotel which seems never to close.
We arrived and headed straight out of Cagliari to the west towards Pula. In Pula we did the usual and stopped straight away for lunch (we've found there's no point in looking at properties on an empty stomach as it's too hard to concentrate). We re-visited the beautiful Is Morus and will certainly be putting it back on our website – the location and hotel are simply wonderful.
After Is Morus we visited Lantana; a lovely family run small hotel with some great apartments. The property is surrounded by lovely gardens. Anyone staying in the residence also gets the bonus of the hotel restaurant on their doorstep.
We then took a long drive over to the very south east corner of the island to the town of Villasimius. We stayed over night in a B&B that won't be making its way onto our website and will remain nameless. However, they did point us in the right direction for a wonderful fish supper. If only the nights sleep had been as good – we also rather foolishly thought breakfast could improve the whole experience and again were way off the mark.
But nevermind. That's why we visit all the properties we consider for our website. Our criteria for choosing accommodation is very simple – if we like properties we add them. This means that we have a wide range of accommodation from simple, rustic apartments and B&Bs; to luxury villas and hotels. The thing they all have in common is that we know and like them; albeit for different reasons.
After our disappointing breakfast we headed to Cala Caterina to refresh our memories of this lovely hotel. Our memories didn't fail us, as it was as lovely as ever. We also slipped into the St Elmo Beach Hotel to say ciao. We then travelled along the coast to the west of Villasimius to see Mario and Pierpaolo at Cormoran. This hotel and residence is simple in its furnishings and facilities. But the location is hard to beat; a few short steps from the hotel and you're on the beach.
Upon departure from Cormoran, Pierpaolo and Mario gave us an itinerary for our evening in Cagliari and it didn't disappoint. We started at Mario's favourite bar in the town for Spumante and followed his instructions from there. I'd certainly recommend that anyone staying at Cormoran follow receptions advice when it comes to restaurant and bar recommendations. They were spot on.
After a night in Cagliari (another hotel that won't make it onto the Essential Italy website for reasons too numerous to list) we visited two more properties. The Nora Club Hotel which is a wonderful small B&B in Pula followed by a small group of apartments called Baia della Palma – again in a lovely location with great apartments, pool and gardens.
If you'd like any information in the meantime please do call or email.