A weekend in Puglia and Basilicata
Posted on 15 November 2012 in Puglia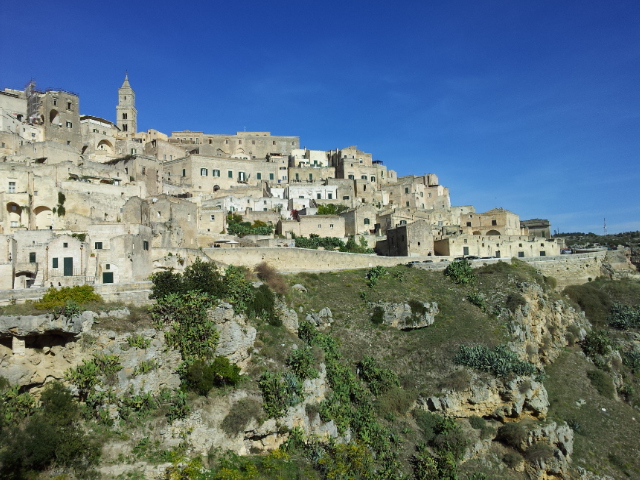 Ian writes: Towards the end of October my thoughts drifted to warmer parts of Italy and a trip was hatched to visit Puglia and Matera, in Basilicata.
The main destination was Matera as I had never been there but had heard rave reviews of this small town. I had also seen Mel Gibson's Passion of Christ which was filmed there and was curious to see for myself. However, having been several times to beautiful Puglia I just couldn't resist a stop over there.
First stop was in Monopoli, we found a charming Bed and Breakfast. Masseria Due Torri on the outskirts of Monopoli. Being late in the evening we headed into town and were amazed by this little fishing town. Immaculate white winding backstreets were a treat and it was bustling with life.
The next morning we eagerly headed down Puglia and popped into Ostuni for a flying stop. The cathedral is impressive and yet again Ostuni did not disappoint. However Matera was calling and after a short drive across Puglia we were quickly into Basilicata and the town of Matera.
First stop was the so-called 'Belvedere' which is a great place to start from as it gives you an amazing view of the town and the 1000's of caves and grottos which make this town so special. The history of Matera is ever so long and dates back to prehistoric times. For me the most interesting period was back in the 1950's when people were still living almost like cavemen in the grottos. The government decided that this was not acceptable and moved them all out into modern housing on the outskirts of the town. This action was taken as it was considered a National outrage that people should still be living in such conditions, no electricity and sanitation. Our guide had another outlook on it – he made a claim that the removal of this style of living was an outrage and the society functioned perfectly and looked after itself. This I can understand, having visited the caves, but on the other hand I would certainly not fancy it.
The town of Matera is absolutely fantastic – a maze of ancient streets and in the evening the town lights up like a Christmas tree. We stayed at the Hotel Sant'Angelo which was truly incredible – the rooms are built into the rocks and despite this have all mod cons and service to match it.
For anyone staying in this region Matera is a must-see. Be prepared for lots of steps and plenty of photo opportunities.
Dined at – and enjoyed – the following places: